Assistive Product

Sophie
Product Type:
Reader with speech output
Reader with automatic text recognition
Reading system with scanner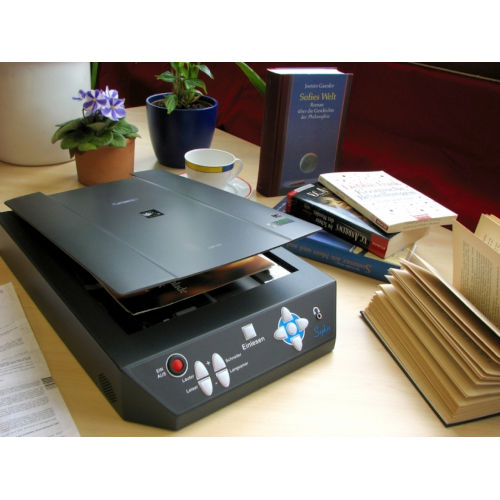 Areas of Application:
- blind people
- severely visually impaired people
- portable use
Description:
Sophie is a compact reading system that captures text and converts it into natural speech. The device can read aloud texts in many different natural sounding languages.
Features / Components:
- A4 flatbed scanner
- 2 built-in speakers
- Connectors: Power supply connector, 2 USB ports, audio mini jack
- Optional: rechargeable bat
Price (without guarantee):
The price is available on request from the manufacturer / distributor.
Product Information from the Manufacturer / Distributor:
Further Product Details
Further Information
REHADAT does not sell any products
Please contact the manufacturer or distributor.
Manufacturer:
no data available

Distributor:
Help Tech GmbH
Brunnenstr. 10
72160 Horb
Germany Telephone: 07451 5546-0 Email: info@helptech.de Homepage: https://helptech.de
Technical Data:

Dimensions (W x H x D): 26 x 7.2 x 42.8 cm
Weight: 3.3 kg
Battery charging time: 5 hrs.
Battery runtime: 7 hrs.
Reference Number:
Hil135151
Source :
DIAS
Last Update: 23 Jan 2023