Assistive Product

Vasco Translator M3
Product Type:
Electronic translator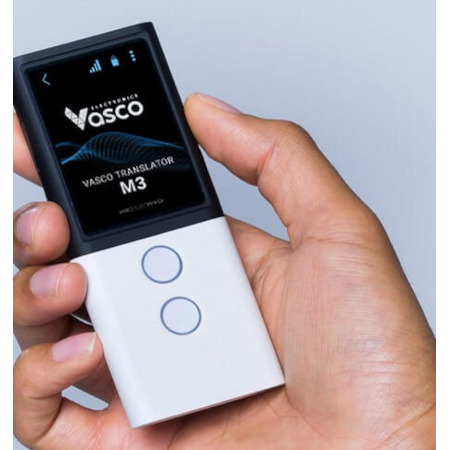 Areas of Application:
- Communication device for people with disabilities who speak other languages
Description:
Vasco Translator M3 is an electronic translator with voice input. It translates what is said into 76 languages. With built-in camera and photo translator, M3 also recognizes and translates printed text such as warnings or notices. Highly sensitive microphones recognize words even in noisy environments.
Features / Components:
- 76 languages
- needs neither cell phone nor app
- always translates free of charge worldwide
- light and handy
- photo translator
- call translator
- 2-inch touch screen
- microphones with noise cancellation
- 84 dB speaker
- Headphone jack 3.5, mm
- USB C port
- Battery lasts up to 160 h
Product Information from the Manufacturer / Distributor:
Weitere Details des Vertriebs
Further Information
Technical Data:

Size: 49 x 125 x 13 mm
Screen: 240 x 320 QVGA 2 inch IPS touchscreen
Processor: MT6737V/WM quad-core CA53 1.1GHz
Modem: 4G
WLAN: 2.4 GHz
Weight: 88 g

Price (no guarantee):
289.00 EUR plus VAT (recommended retail price).
Reference Number:
Hil135929
Source :
DIAS
Last Update: 21 Feb 2023