Assistive Product

VOXbox pro
Product Type:
Reader with speech output
Reading system with scanner
Reader with automatic text recognition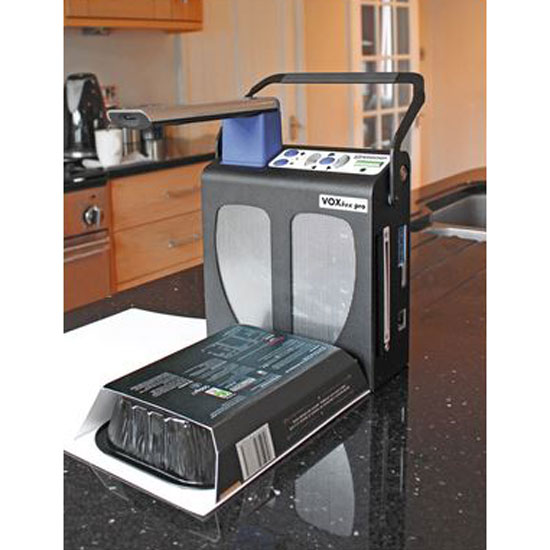 Areas of Application:
- blind people
- severely visually impaired people
- stationary and portable use
Features / Components:
- modular expandable reading system
- attachable camera
- navigation by paragraph, sentence, word and letter
- magnification up to 32x in camera mode, up to 80x in document mode
- simple 6-key operation and fast text recognition
- attachable keypad for comfortable operation and extended functions
- automatic recognition of different languages even within a document
- optionally expandable: Rechargeable battery, low-vision module
- magnification functions controllable via keypad and trackball
- one national language, additional languages optional, in German with 3 voices,
- 2 x 6 watt stereo loudspeakers,
- 3.5 mm jack socket for headphones, incl. Headpho
Price (without guarantee):
The price is available on request from the manufacturer / distributor.
Product Information from the Manufacturer / Distributor:
Further Product Details
Further Information
REHADAT does not sell any products
Please contact the manufacturer or distributor.
Manufacturer:
no data available

Distributor:
Reinecker Vision GmbH
Sandwiesenstr. 19
64665 Alsbach-Hähnlein
Germany Telephone: 06257 9311-0 Email: info@reineckervision.de Homepage: https://www.reineckervision.de
Technical Data:

Overall dimensions (W x D x H): 19.5 x 21.5 x 8 cm
Weight: 1.6 kg
Reference Number:
DIAS/132098
Source :
DIAS
Last Update: 10 May 2023