Assistive Product

Kindle Paperwhite Signature Edition
Product Type:
Electronic Book Reader (E Book Reader)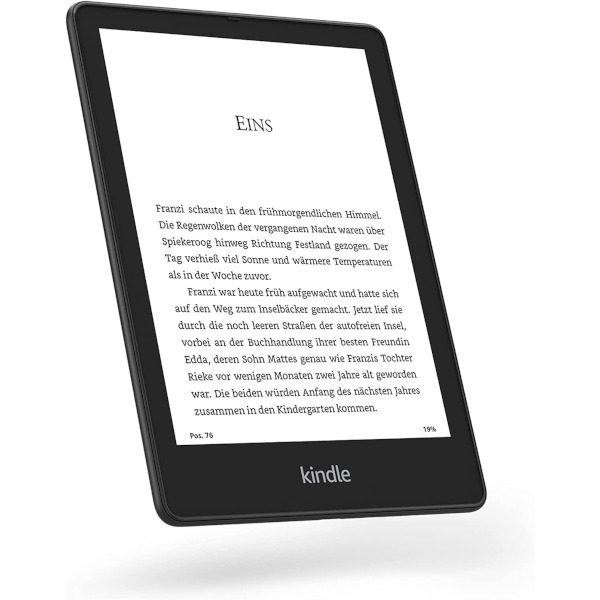 Description:
An e-book reader (also e-reader) is a portable reader for electronically stored book content (e-books). The device is able to adapt the font to the needs of its users (font, font size, hyphenation, capital letters). There is also a translation function that can translate English words directly into German. This function can also be used as a vocabulary trainer (learn flashcards digitally).
Features / Components:
- 300-ppi paperwhite display without mirror effects
- 32 GB internal memory
- with Kindle Unlimited access to more than two million books and thousands of audio books
- smart lookup function dictionary
- color temperature of the display individually adjustable and also automatically adjustable by schedule
- smart front light automatically adjusts screen brightness to lighting conditions
- vocabulary trainer
- does not support PDF format
- charges via USB-C or compatible Qi charger (sold separately)
- battery lasts up to ten weeks
- water resistant: protected against accidental immersion in up to two meters of deep fresh water for up to 60 minutes and up to 25 cm of deep salt water for up to 3 minutes
Price (without guarantee):
Price is available upon request from the manufacturer / distributor.
Product Information from the Manufacturer / Distributor:
Further Product Details
Further Information
REHADAT does not sell any products
Please contact the manufacturer or distributor.
Manufacturer:
Amazon Europe Core S.à r.l.
38 avenue John F. Kennedy
1855 Luxemburg
Luxembourg Homepage: https://www.amazon.de/
Distributor:
Amazon Europe Core S.à r.l.
38 avenue John F. Kennedy
1855 Luxemburg
Luxembourg Homepage: https://www.amazon.de/
Reference Number:
Hil135870
Source :
DIAS
Last Update: 11 Jan 2023