Content
Assistive Product

Tolino Vision 5
Product Type:
Reader for electronic books (e-book reader)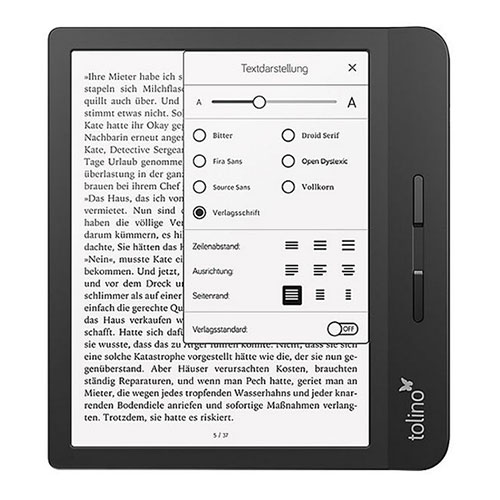 Description:
An e-book reader (also e-reader) is a portable reader for electronically stored book content (e-books). The device is able to adapt the font to the needs of the reader (font, font size, hyphenation, large letters). The device has a special coating and is water-repellent to a certain degree. The device can also be used to view PDF documents.
This device has a special mode for people with visual impairment, in which the menu items can also be enlarged.
Features / Components:
- Enlarged 7 display
- Mode for enlarged Menu items
- Automatic display rotation (portrait / landscape format)
- Ergonomic shape with scroll buttons for even more intuitive operation
- Touchscreen display
- Illumination with color temperature according to the time of day (cold / warm)
- Water-repellent IPX8 coating
- HD display
- 8 GB of storage space, of which 6 GB can be used for up to 6,000 eBooks
- USB cable that can be plugged in on both sides
- Weekly battery life
- WiFi and free access to Deutsche Telekoms HotSpots
Price (without guarantee):
The price is on request available from the manufacturer / distributor
Product Information from the Manufacturer / Distributor:
Further Product Details
Further Information
REHADAT does not sell any products
Please contact the manufacturer or distributor.
Manufacturer:
Thalia Bücher GmbH
An den Speichern 8
48157 Münster
Germany Telephone: 0251 5309330 Email: info@thalia.de Homepage: https://www.thalia.de
Distributor:
Thalia Bücher GmbH
An den Speichern 8
48157 Münster
Germany Telephone: 0251 5309330 Email: info@thalia.de Homepage: https://www.thalia.de
Reference Number:
Hil133878
Source :
DIAS
Last Update: 22 Jan 2020