Content
Assistive Product

DIPAX MultiBox
Product Type:
Input modification for keyboard simulation and mouse simulation with single and multiple buttons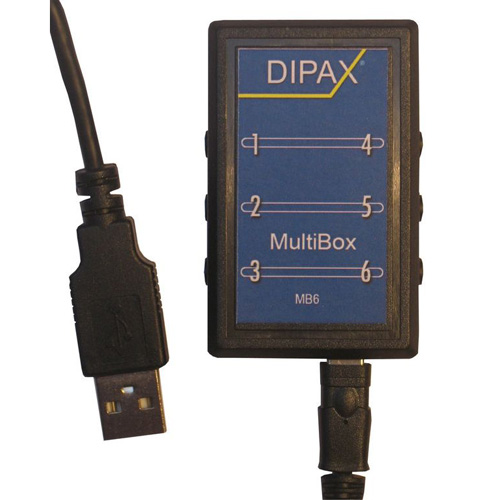 Areas of Application:
- Enables people with severe coordination difficulties to operate keyboard and / or mouse functions with single or multiple sensors or joysticks on IBM-compatible PCs.
Features / Components:
- USB adapter for the connection of up to 6 single sensors which, when actuated, trigger previously set actions
- Connection can be made in addition to the standard mouse or standard keyboard
Possible freely programmable functions per sensor input, including: - start any programs from the hard disk
- open any files
- trigger any keystrokes
- trigger mouse buttons
Keyboard key functions:
- letters, special characters, function keys, control keys and combinations of the same
- examples: Enter key, CTRL + C, ALT + F4, F1, ESC, TABULATOR etc.
Mouse button functions: Click right / center / left nks, left click and drag, double click, scroll wheel simulation
Price (without guarantee):
The price is available on request from the manufacturer / distributor.
Product Information from the Manufacturer / Distributor:
Further Product Details
Further Information
REHADAT does not sell any products
Please contact the manufacturer or distributor.
Manufacturer:
DIPAX e.K.
Florastr. 93
13187 Berlin
Germany Telephone: 030 509151-26 Email: info@dipax.de Homepage: http://www.dipax.de
Distributor:
Humanelektronik GmbH
Spezial- und Rehabilitationselektronik
Weinsheimer Str. 57a
67547 Worms
Germany Telephone: 06241 49691-0 Email: info@humanelektronik.de Homepage: https://humanelektronik.de
Technical Data:
PC connection: USB interface
Connection for external sensors: 8 mini jack sockets (3.5 mm), freely programmable actions per connection socket possible
Length x width x depth: 60 x 39 x 14 mm
Operating system: Windows® Vista / 7 / 8 / 8.1 / 10
Reference Number:
C/02001
Source :
DIAS
Last Update: 14 Apr 2021