Content
Assistive Product

DIPAX ScanMouse
 | 

DIPAX SensorBox
Product Type:
Input modification for mouse control with single buttons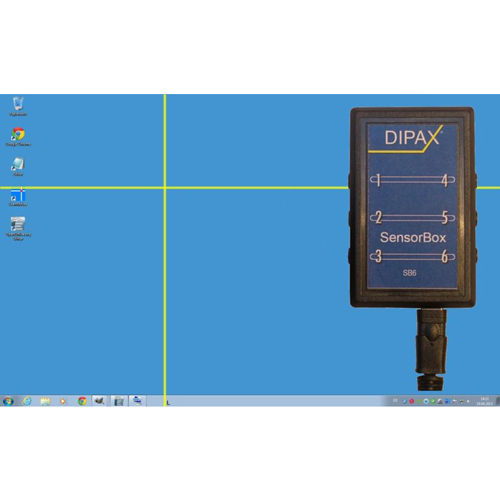 Areas of Application:
- enables the control of a standard computer mouse and important additional functions even with minimal motor skills
- for pronounced cerebral or central movement disorders, neurological disorders or neuromuscular disabilities such as ALS, spastic and flaccid paralysis
- enables mouse control via individual buttons / sensors
Description:
To move the mouse pointer with a button, the desired target position is determined in two steps. The mouse buttons are controlled via the included mouse button emulation DIPAX ClickMaster.

How the mouse works:
When the ScanBox is in operation, a vertical bar on the screen moves continuously from left to right and back again (scanning process). If the bar is above the desired click position, a sensor must be actuated, whereupon the bar no longer moves. A second, horizontal bar is then faded in, which constantly moves from top to bottom and back again. If this bar is also above the desired click position, a sensor must be activated again. A previously pre-selected mouse button function is immediately applied to the intersection point determined in this way.

Functionality of the mouse button function:
Buttons are shown in a menu on the screen, each for the mouse button functions: click left mouse button, click right mouse button, click middle mouse button, click and drag left , Double click left. After pre-selecting one of these mouse button function buttons, the corresponding mouse button function is automatically triggered Standard mouse can be used.
- Switching between any open programs (windows) possible.
- Scanning area adapts automatically to the size of the active window if desired.
- Customer-specific extensions / adjustments possible.
- Contains a menu (click menu) for selection a mouse button action.
Functions of the click menu:
- Mouse button functions: click left, right, center; Click and drag; Double click.
- Menu can be displayed horizontally, vertically or in two rows
- Different display sizes (zoom) adjustable.

System requirements:
- IBM-compatible PC
- USB interface
- Windows Vista / 7/8/10
Delivery:
- optional: USB box with button, integrated 3.5 mm jack and cable
- CD
- manual
Price (without guarantee):
The price is available on request from the manufacturer / distributor.
Product Information from the Manufacturer / Distributor:
Further Product Details
Further Information
REHADAT does not sell any products
Please contact the manufacturer or distributor.
Manufacturer:
DIPAX e.K.
Florastr. 93
13187 Berlin
Germany Telephone: 030 509151-26 Email: info@dipax.de Homepage: http://www.dipax.de
Distributor:
Humanelektronik GmbH
Spezial- und Rehabilitationselektronik
Weinsheimer Str. 57a
67547 Worms
Germany Telephone: 06241 49691-0 Email: info@humanelektronik.de Homepage: https://humanelektronik.de
Reference Number:
C/01098
Source :
DIAS
Last Update: 14 Apr 2021