Content
Assistive Product

TippFixx
Product Type:
Word prediction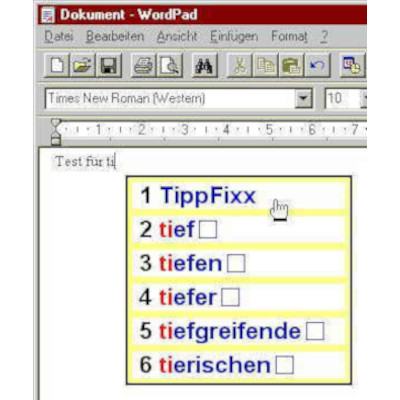 Areas of Application:
for people who write slowly,
(e.g. when using a head stick, head mouse, etc. to enter texts) for:
- pronounced movement disorder
- neuromuscular disabilities (such as ALS)
- spastic and flaccid paralysis
Description:
Text that has already been written is analyzed and suggestions for word completion are made while writing. If you select a suggestion, it will be included in the text. This considerably reduces the number of keystrokes required to enter texts.
Features / Components:
- Word prediction learns and can be adapted to the individual vocabulary
- Prediction of compound words
- Prediction of several subsequent words possible
- Consideration of the Grammar for predictions
- you can create any number of your own dictionaries
- continuous adaptation of the dictionaries during use possible
- ability to predict different programs, even when changing applications
- integrated abbreviation expansion (autotext function)
- integrated smart typing function
- Configurable position and font formatting of the forecast window
- Number of suggestions displayed adjustable
- Sorting options of the forecasts: alphabetically, according to probability, according to word length

System requirements:
- IBM-compatible PC
- Windows XP or higher
Price (without guarantee):
Das The program is shareware and can be downloaded for free.
Product Information from the Manufacturer / Distributor:
Further Product Details
Further Information
REHADAT does not sell any products
Please contact the manufacturer or distributor.
Manufacturer:
Kompetenzzentrum Barrierefreiheit Volmarstein
Grundschötteler Str. 40
58300 Wetter
Germany Telephone: 02335 9681-0 Email: info@ftb-esv.de Homepage: https://kb-esv.de/
Distributor:
Kompetenzzentrum Barrierefreiheit Volmarstein
Grundschötteler Str. 40
58300 Wetter
Germany Telephone: 02335 9681-0 Email: info@ftb-esv.de Homepage: https://kb-esv.de/
Reference Number:
C/01095
Source :
DIAS
Last Update: 20 Apr 2021