Content
Assistive Product

EMU Wortvorsage Download
Product Type:
Word prediction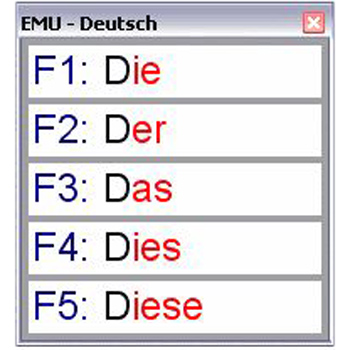 Areas of Application:
for people who write slowly, (e.g. when using a head stick, head mouse, etc. to enter texts) in:
- pronounced movement disorder
- neuromuscular disabilities (such as ALS)
- spastic and flaccid paralysis
Description:
While writing, suggestions for word completion are made on the basis of the text already written. If you select a suggestion, it will be included in the text. This significantly reduces the number of keystrokes required to enter texts.
Features / Components:
- Word prediction learns and can be adapted to the individual vocabulary
- Prediction of compound nouns
- Prediction of several subsequent words possible
- Consideration of Grammar for predictions
- Generic algorithm to ensure compatibility with many languages
- General dictionary with approx. 300,000 entries (German)
- You can create any number of your own dictionaries
- Constant adaptation of the dictionaries during use possible
- Predictability for different programs, also when changing applications

System requirements:
- from Windows XP (32 and 64 bit)
Price (without guarantee):
The price is available on request from the manufacturer / distributor.
Product Information from the Manufacturer / Distributor:
Weitere Details des Vertriebs
Weitere Details des Herstellers
Further Information
Keywords
ISO
Search for similar prodcuts in REHADAT:
Search for similar products in EASTIN throughout Europe:
ICF Items
Reference Number:
C/01094
Source :
DIAS
Last Update: 20 Apr 2021