Content
Assistive Product

Arbeitsdrehstuhl profiline
Product Type:
working chair, swivel chair
various designs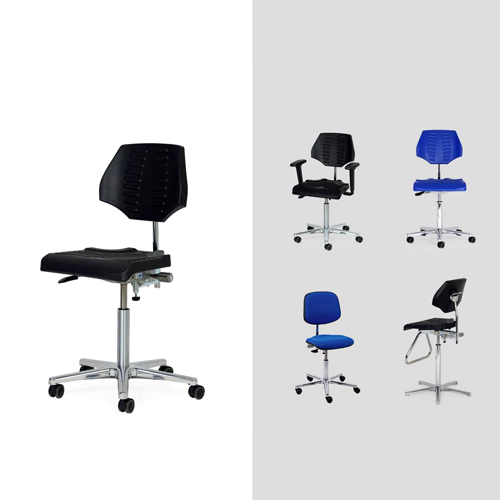 Areas of Application:
for example
- for relief of the musculoskeletal system
Description:
The chair has a slightly higher backrest and a flatter seat entry. Due to the rounded front edge of the seat, the thighs roll off better, which makes getting up and sitting down easier. In addition, there are profiline armrests and climbing aids for higher workplaces.
Features / Components:
- Backrest: height-adjustable, tilt-adjustable, pendulum-mounted
- Seat: height-adjustable by safety gas spring, tilt-adjustable, asynchronous mechanism
- Upholstery: PU foam, fabric or synthetic leather
- Underframe: optional with castors, aluminum plates or Glider
Price (without guarantee):
The price depends on the individual customer requirements.
Product Information from the Manufacturer / Distributor:
Further Product Details
Further Information
Technical Data:
Back height: 10 cm infinitely adjustable
seat height: 45-85 cm (depending on the model), 10 cm infinitely height-adjustable
seat width: 42 cm
seat depth: 41 cm


Options / Accessories:
- Climbing Aids
- Armrests
Keywords
ISO
Search for similar prodcuts in REHADAT:
Search for similar products in EASTIN throughout Europe:
ICF Items
Reference Number:
IW/180903.004
Source :
IW
Last Update: 21 Aug 2019