Assistive Product

Penfriend XL
 | 

Penfriend XP

 | 

Penfriend Portable
Product Type:
Word prediction, voice output and on-screen keyboard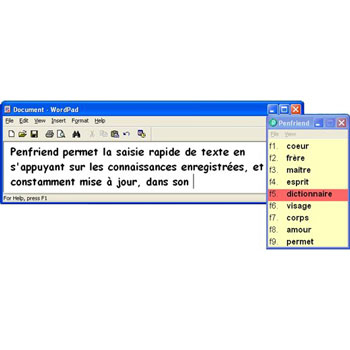 Areas of Application:
for slow typists,
(e.g., when using head wand, head mouse, etc. (e.g. when using head stick, head mouse, etc.) for:
- pronounced movement disorder
- neuromuscular disabilities (such as ALS)
- spastic and flaccid paralysis
Description:
Text already written is analyzed and suggestions for word completion are made while writing. When a suggestion is selected, it is incorporated into the text. This significantly reduces the number of keystrokes required to enter text.
Features / Components:
Word prediction:
- word prediction learns with you and is adaptable to your individual vocabulary
- word selection by pressing only one key or using the mouse
- dictionaries learnable: every word you type is analyzed and can be learned
- new words are recorded in a separate list
- integrated smart typing function
- function for text modules (abbreviation expansion)
Speech output:
- Reading out words on the screen
- Reading out the words of the prediction list
- Reading out every typed letter, word and sentence
- Color marking for easier tracking of the words read out
On-screen keyboard:
- contains all letter and number keys of a normal QWERTY keyboard
- Colors can be changed by the user according to his own preferences
Price (without guarantee):
The price is available on request from the manufacturer / distributor.
Product Information from the Manufacturer / Distributor:
Further Product Details
Further Information
Reference Number:
C/01128
Source :
DIAS
Last Update: 6 Jun 2023