Assistive Product

EMU Wortvorsage Download
Product Type:
Word prediction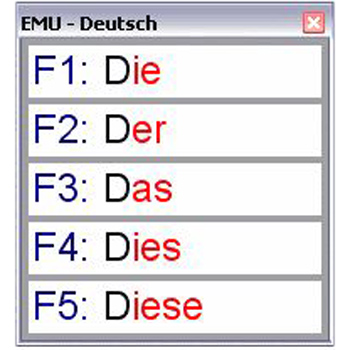 Areas of Application:
for slow typists, (e.g. when using head wand, head mouse, etc. to enter text) for:
- pronounced movement disorder
- neuromuscular disabilities (such as ALS)
- spastic and flaccid paralysis
Description:
During typing, suggestions for word completion are made based on the text already written. When a suggestion is selected, it is incorporated into the text. This significantly reduces the number of keystrokes required to enter text.
Features / Components:
- word prediction learns with and is adaptable to individual vocabulary
- prediction of compound nouns
- prediction of multiple subsequent words possible
- consideration of grammar in predictions
- generic algorithm to ensure compatibility with many languages
- general dictionary with approx. 300.000 entries (German)
- any number of own dictionaries can be created
- ongoing adaptation of the dictionaries during the application possible
- prediction capability for different programs, even when changing applications

System requirements:
- from Windows XP (32 and 64 bit)
Price (without guarantee):
The price is available on request from the manufacturer / distributor.
Product Information from the Manufacturer / Distributor:
Weitere Details des Herstellers
Weitere Details des Vertriebs (Rehavista)
Further Information
Reference Number:
C/01094
Source :
DIAS
Last Update: 5 Jun 2023