Assistive Product

Joystick-to-Mouse
Product Type:
Input modification for mouse control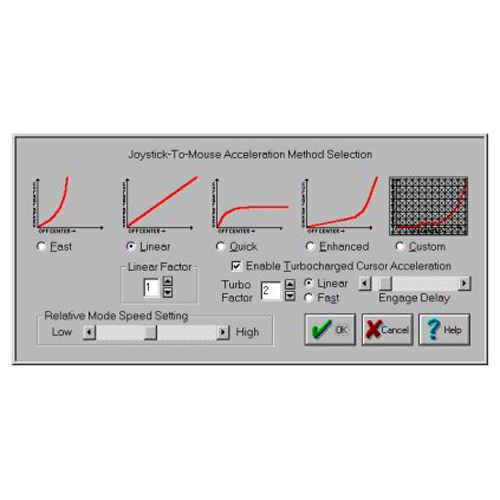 Areas of Application:
- in case of coordination difficulties, when no standard mouse can be operated, but the operation of a joystick or multiple sensor is possible
- mouse control via a connected joystick
Features / Components:
- mouse control by a joystick connected to the gameport
- for IBM compatible computers
- software compatibility: any Windows software, also DOS applications under Windows
- plugs into the operating system
- motion conversion: from joystick to simulated motion of a mouse
- functionality and individual preferences adjustable
- joystick key functions for up to 4 joystick keys are programmable:
- out of 60 selectable key functions, one each can be assigned to 4 joystick keys
- (ex. E.g.: click, hold mouse button, double click, Esc, F1, Enter, etc.)
- programmable keyboard macros for joystick keys possible

System requirements:
- Windows 10, 8 and 8.1
- older versions available for older Windows systems
- support for extended joysticks with 9 to 32 keys
- additional key functions
- support for mouse wheel and additional scroll functions
Price (without guarantee):
The price is available on request from the manufacturer / distributor.
Product Information from the Manufacturer / Distributor:
Weitere Details des Herstellers (Englisch)
Weitere Details des Vertriebs (Carolo)
Further Information
REHADAT does not sell any products
Please contact the manufacturer or distributor.
Manufacturer:
IMG - Innovation Management Group, Inc.
179 Niblick Road #454
CA 93446 Paso Robles
United States Telephone: +1 818 701-1579 Email: cs@imgpresents.com Homepage: https://www.imgpresents.com/
Distributor:
Carolo
Zum Gipelhof 3
60594 Frankfurt
Germany Telephone: 069 857030-24 Email: info@carolo.de Homepage: http://www.carolo.de
Reference Number:
C/00856
Source :
DIAS
Last Update: 7 Jun 2023