Assistive Product

Point-N-Click
Product Type:
Mouse replacement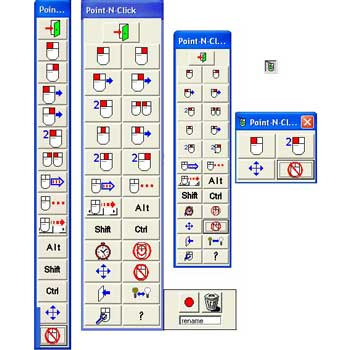 Areas of Application:
- enables left and right click with touchscreen operation
- enables or facilitates mouse button operation in cases of pronounced cerebral or central movement disorders, neurological disorders and neuromuscular disabilities (ALS), spastic and flaccid paralysis, provided that the operation of a pointing device is possible, but not a mouse button operation of the pointing device
- necessary as an additional program in connection with mouse simulators, if the mouse button operation can only be done via a button or a dwell time
Description:
Point-N-Click takes over the mouse clicking. If the mouse pointer is left unmoved for an arbitrarily adjustable time, the program performs a click with the left mouse button. The other possibilities of the mouse click, like right click, double click, hold down right mouse button or hold down left mouse button, are also executed via a selection menu.

Point-N-Click is a supplement to the program "Click-N-Type" from Lake Software.

System requirements:
Operating system: Windows 95/98/NT4.x/Me/2000/XP/Vista/Windows 7/Windows 10
Other:
Price (without guarantee):
The price is available on request from the manufacturer / distributor.
Product Information from the Manufacturer / Distributor:
Further Product Details
Further Information
Reference Number:
C/01111
Source :
DIAS
Last Update: 7 Jun 2023