Assistive Product

Traxsys Roller Plus Joystick
Product Type:
Mouse control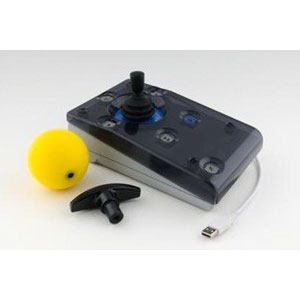 Areas of Application:
- Mouse replacement in the case of a lack of fine motor skills,
- When the use of a standard mouse or a trackball is not possible.
Features / Components:
- Joystick mouse in ABS housing for connection to IBM-compatible or Macintosh Computer
- Operation with hand and / or foot
- With integrated, removable cover plate, which also serves as a palm rest
- Cover plate for safe finding of the keys
- Cover plate to prevent the mouse buttons from being triggered accidentally
- Retaining nuts on the bottom of the device for secure attachment to the worktop or Tripod
- Connection instead of the mouse, without additional software
- Various joystick handles available: Joystick, softball, T-handle
- Mouse pointer speed: five cursor speeds can be selected
- Function keys for X / Y-axis selection
- (for safe pointer positioning)
- Additional buttons for the following functions:
- Right and left click, double click, hold both mouse buttons, speed selection, X / Y lock g
- X / Y blocking: blocking a direction of movement of the mouse pointer in the X or Y direction:
- wobbling of the mouse pointer movement is prevented by X / Y blocking
- Switchbax available as an accessory for connecting single sensors
- all buttons except the Speed button can be triggered with external sensors
- Delivery with external power su
Price (without guarantee):
The price is available on request from the manufacturer / distributor.
SHI-Number:
SHI-Medical Technical Aids Register | 16.99.04.1008 | 16.99.04.1010
Product Information from the Manufacturer / Distributor:
Further Product Details
Further Information
REHADAT does not sell any products
Please contact the manufacturer or distributor.
Manufacturer:
Traxsys Input Products
33 Oakfield Road
SE20 8EW Penge, London
United Kingdom Telephone: +44 208 659-9090 Homepage: http://www.traxsys.com/
Distributor:
siehe Hersteller und Fachhandel

Technical Data:
Connection: USB, PS / 2
Number of mouse buttons: 6 mouse buttons
Dimensions including cover plate: 139 x 225 x 95 mm (W x D x H)
Reference Number:
C/00583
Source :
DIAS
Last Update: 14 Oct 2020