Content
Assistive Product

Reinigungsbürste HURRICANE SPIN SCRUBBER
Product Type:
Electric Cleaning Brush with Extension Bar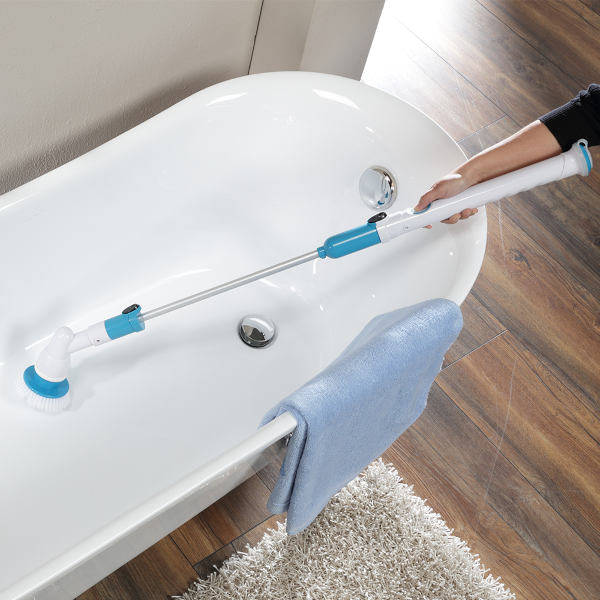 Areas of Application:
- extending the reach
- cleaning in an upright position
- as a grout brush and tile cleaner
- cleaning smooth and uneven surfaces
- cleaning bathtub, shower and faucets
Description:
The electric cleaning brush has a main handle that can be attached to the supplied extension bar if necessary. This can be used to clean hard to reach areas.
There are three different attachments to the cleaning brush. The dome-shaped brush is used to clean uneven surfaces and fixtures. With the cone-shaped brush, the electric cleaning brush becomes a crevice brush for narrow corners and gaps. With the flat brush you clean flat surfaces, tiles and the bathtub and shower. Changing the brushes is done by plugging them on.
Features / Components:
- with extension wand
- cleaning action through rotating movements
- 3 attachments: 1 dome-shaped brush, 1 cone-shaped brush, 1 flat brush
- cordless company
- incl. Charging c
Price (without guarantee):
59.99 EUR incl. VAT (sales)
Retail price
Product Information from the Manufacturer / Distributor:
Further Product Details
Further Information
REHADAT does not sell any products
Please contact the manufacturer or distributor.
Manufacturer:
no data available

Distributor:
Otto (GmbH & Co KG)
Werner-Otto-St. 1-7
22179 Hamburg
Germany Telephone: 040 64610 Email: service@otto.de Homepage: https://www.otto.de/
Technical Data:

Dimensions W x L: 8 × 112 cm
Weight: 0.92 kg
Battery capacity in mAh: 2000 mAh
Battery voltage in V: 3.7 V
Battery power in Wh: 7.4
Reference Number:
Hil135665
Source :
IDTS
Last Update: 26 Oct 2022