Assistive Product

Bügelbrett Air Board XL Ergo Plus
Product Type:
Ironing board for ironing while sitting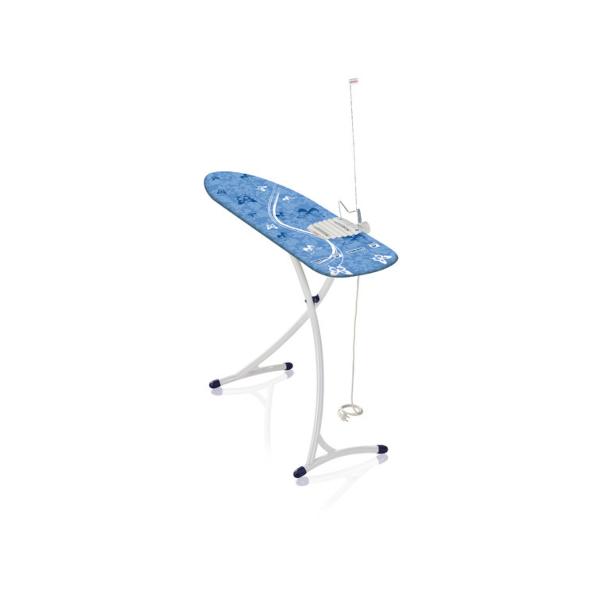 Areas of Application:
- Ironing while sitting
Description:
The special cover reflects steam and heat from the iron. This creates a two-sided ironing effect. Shirts in particular can be freed of wrinkles on the ironing table, as it has a special shoulder fit.
The ergonomic base of the ironing board is height-adjustable from 75 cm to 99 cm and is suitable for ironing while sitting.
Foot caps equalize unevenness in the floor. The ironing board can be safely put away with the help of the transport lock.
Features / Components:
- Ironing surface made of special plastic
- Suitable for use with a steam iron
- Shoulder fit simplifies ironing of shirts
- Two-sided ironing effect thanks to special cover with thermal Reflect technology
- ergonomic base enables ironing even while sitting
- mobile ironing rest with socket and cable holder
- foot caps that flexibly compensate for uneven floors
- transport lock enables safe storage
- cover made of 55% polyester, 29% cotton, 8% polyurethane and 8% tita
Price (without guarantee):
99.99 EUR including VAT.
End-user price
Product Information from the Manufacturer / Distributor:
Further Product Details
Further Information
Technical Data:
Folded dimensions: 153 x 49 x 11 cm
Ironing surface: 140 x 38 cm
Height adjustable: 75 - 99 cm
Reference Number:
Hil134992
Source :
IDTS
Last Update: 5 May 2021