Content
Assistive Product

Scandi Smartphonehalterung / Lesehilfe
Product Type:
Smartphone holder for scanning texts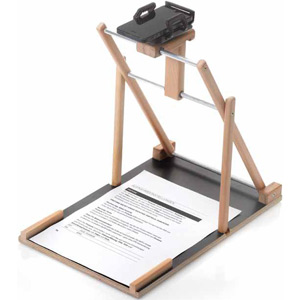 Areas of Application:
- Blindness
- Visual impairment
Description:
The NWW – Scandi enables blind and visually impaired people to read in documents or texts with their smartphones for further processing. The text is photographed or scanned with the appropriate software. With the OCR software it is converted into editable text and can thus be read out.
With the NWW - Scandi, the smartphone is always exactly positioned during the entire scanning process. It can be set up like a ladder in just a few simple steps and folded up again just as quickly and easily.
Price (without guarantee):
89.00 EUR including VAT.
Retail price
Product Information from the Manufacturer / Distributor:
Further Product Details
Further Information
REHADAT does not sell any products
Please contact the manufacturer or distributor.
Manufacturer:
Nürnberger Wohn- und Werkstätten für Blinde und Sehbehinderte gemeinnützige GmbH (NWW gGmbH)
Brieger Str. 2
90471 Nürnberg
Germany Telephone: 0911 6606-0 Email: info@nww-gruppe.de Homepage: https://www.nww-gruppe.de/de/start
Distributor:
Nürnberger Wohn- und Werkstätten für Blinde und Sehbehinderte gemeinnützige GmbH (NWW gGmbH)
Brieger Str. 2
90471 Nürnberg
Germany Telephone: 0911 6606-0 Email: info@nww-gruppe.de Homepage: https://www.nww-gruppe.de/de/start
Reference Number:
M/26376
Source :
IDTS
Last Update: 22 Apr 2021