Content
Assistive Product

Universal-Trinkbecherhalterung
Product Type:
Cup Holder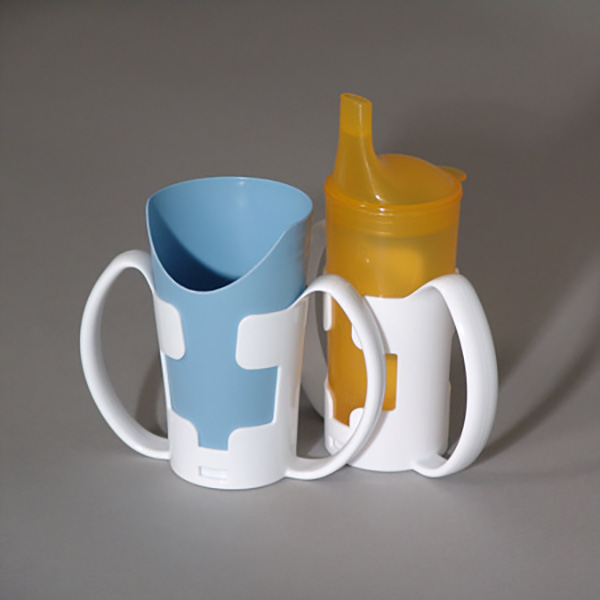 Areas of Application:
- Handle Adapter
- Drink Holder
- Drinking Aid
- Cup Holder
- Handicap
Description:
The plastic cup holder has two large handles so that cups can be held securely despite the user's limited or absent gripping function.

Suitable for the following drinking cups:
- F.O.T.T. drinking cup
- Unisono nose cup without handle
- Caipi cup 0.3l
- Drinking cup with nose cut-out
Price (without guarantee):
4.95 EUR including VAT. (WGP)
End user price
Product Information from the Manufacturer / Distributor:
Further Product Details
Further Information
REHADAT does not sell any products
Please contact the manufacturer or distributor.
Manufacturer:
no data available

Distributor:
WGP-Produktdesign
Neuer Messplatz 3
79108 Freiburg
Germany Telephone: 0761 21606998 Email: shop@wgp-produktdesign.de Homepage: https://www.wgp-shop.de
Proaktivo
Inh.: Dipl.-Kfm. Ernst-Erich Guskar
Pfinzingstr. 48
90537 Feucht
Germany Telephone: 09128 1537138 Email: info@proaktivo.de Homepage: https://www.proaktivo.de
Technical Data:

Weight: 55 g
Reference Number:
M/23409
Source :
IDTS
Last Update: 26 Jan 2022