Content
Assistive Product

Arthro Thumbs-Up Becher
Product Type:
Beak cup with double handle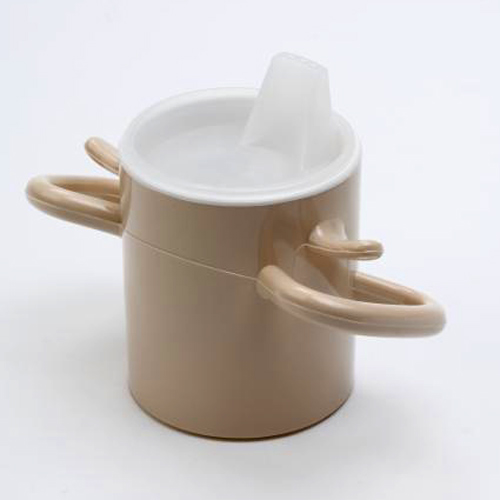 Areas of Application:
- People with limited hand strength
- Hand disability
Description:
The cup is suitable for people with limited hand strength and for people who need to keep their hand in a neutral position. Spillage due to trembling is prevented. It supports bringing the cup to the mouth without moving the wrist. The double-walled cup protects against excessive heat or cold. It can hold 237 ml. The 2.5 cm high rim reduces liquid spillage. The graduation inside the cup is in ounces and ml.
It is dishwasher safe and microwave safe.
Price (without guarantee):
19,81 EUR incl. VAT. (Distribution)
End user price
Product Information from the Manufacturer / Distributor:
Further Product Details
Further Information
REHADAT does not sell any products
Please contact the manufacturer or distributor.
Manufacturer:
no data available

Distributor:
Alltagshilfen Schmid Renate
Alltagshilfen - Verbrauchsartikel - Homecareprodukte
Thannstr.10
5322 Hof
Austria Telephone: +43 650 6668881 Email: office@sanimed.at Homepage: https://www.alltagshilfen24.com
Reference Number:
M/24468
Source :
IDTS
Last Update: 11 Apr 2022