Content
Assistive Product

Trinkbecher (PP), Inhalt: 500 ml
Product Type:
Bug with drinking tube and cap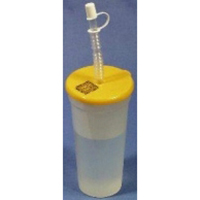 Description:
The cup has a closable and flexible drinking tube. It is made of polypropylene and is dishwasher safe.
Price (without guarantee):
4.50 EUR including VAT (sales)
End-consumer price
Product Information from the Manufacturer / Distributor:
Further Product Details
Further Information
REHADAT does not sell any products
Please contact the manufacturer or distributor.
Manufacturer:
no data available

Distributor:
Groß GmbH
im- + Export med. techn. Handelsvertretung
In den Fleckenäckern 45
72654 Neckartenzlingen
Germany Telephone: 07127 35425 Email: grossgmbh@mthmed.de Homepage: http://www.mthmed.com
Technical Data:
Contents: 0.5 liters
Reference Number:
M/14127
Source :
IDTS
Last Update: 25 Jan 2021