Content
Assistive Product

Pflegebecher 220 ml
Product Type:
Drinking cup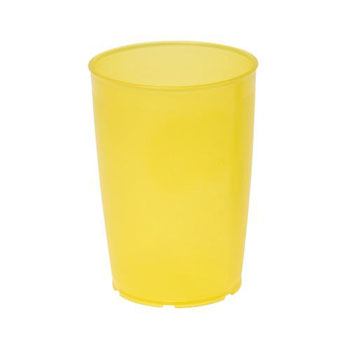 Description:
The cup is available in both transparent and full-color in different colors, so that e.g. B. a clear station assignment can take place. The transparent care cups enable the care staff to check the contents of drinking logs, which is supported by a scale. A special external structure also supports the safe access of those in need of care.
Features / Components:
Colors:
naturally transparent
yellow transparent
orange transparent
red transparent
blue transparent
green transparent
turquoise transparent
dishwasher safe, sterilizable, microwave safe
Price (without guarantee):
2.00 EUR including VAT
End-consumer price
Product Information from the Manufacturer / Distributor:
Further Product Details
Further Information
REHADAT does not sell any products
Please contact the manufacturer or distributor.
Manufacturer:
Ornamin-Kunststoffwerke GmbH & Co. KG
Kuckuckstr. 20a - 26
32427 Minden
Germany Telephone: 0571 88808-0 Email: shop@ornamin.com Homepage: https://www.ornamin.com
Distributor:
Ornamin-Kunststoffwerke GmbH & Co. KG
Kuckuckstr. 20a - 26
32427 Minden
Germany Telephone: 0571 88808-0 Email: shop@ornamin.com Homepage: https://www.ornamin.com
Technical Data:
Height: 100 mm
Contents: 220 ml
Weight: 30 g
Diameter: 73 mm
Reference Number:
M/19044
Source :
IDTS
Last Update: 19 Feb 2021