Content
Assistive Product

Dysphagie-Tasse
Product Type:
Dysphagia Cup, Mug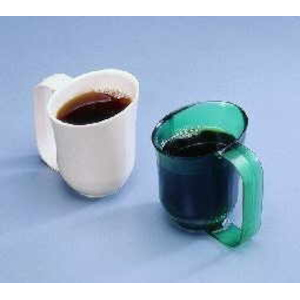 Areas of Application:
- People with swallowing difficulties
- People who have suffered a stroke
- People with neurological injuries
- People with chronic neck pain to avoid putting the head back
Description:
Dysphagia Cup Helps people with swallowing difficulties. Drinking with the chin pushed toward the chest gives the normal swallowing mechanisms time to work. Design helps prevent fluid from leaking at the lips and directs fluid to the center of the mouth. The cup has enough large space for the nose when drinking without putting the head back. Features handles for easy grip with whole hand or thumb only. Ideal after stroke or neurological injury. The cup can also be used by people with chronic neck pain to avoid putting the head back.
Features / Components:
- Colors: almond or green
- dishwasher safe
Price (without guarantee):
36,59 EUR including VAT. (distribution)
End user price
Product Information from the Manufacturer / Distributor:
Further Product Details
Further Information
REHADAT does not sell any products
Please contact the manufacturer or distributor.
Manufacturer:
no data available

Distributor:
Alltagshilfen Schmid Renate
Alltagshilfen - Verbrauchsartikel - Homecareprodukte
Thannstr.10
5322 Hof
Austria Telephone: +43 650 6668881 Email: office@sanimed.at Homepage: https://www.alltagshilfen24.com
Technical Data:

Capacity: 237 ml
Weight: 238 g
Reference Number:
M/21201
Source :
IDTS
Last Update: 9 Feb 2022