Content
Assistive Product

LARCHEL Wassertherapiegerät
Product Type:
Water therapy device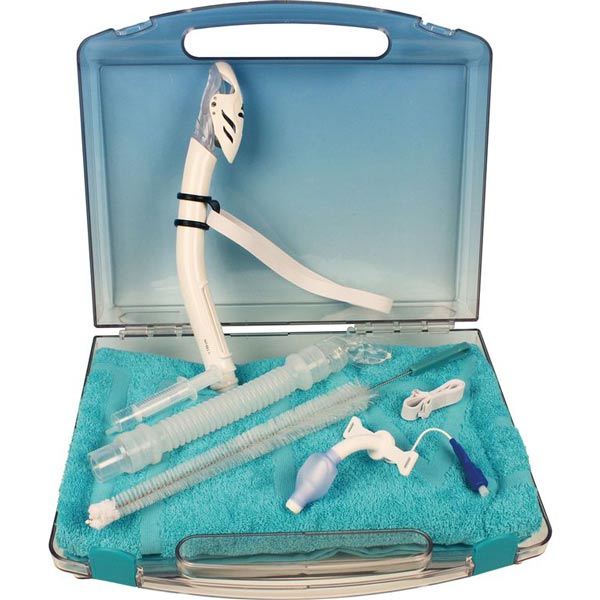 Areas of Application:
- Bathing aid
- Buoyancy aid
- Snorkel
- Larynx removal
- Underwater massage
- Exercise therapy in the water
Description:
(Information from the supplier)
The water therapy device enables laryngeal movement therapy in the water and also a therapeutic one Swimming.
The Larchel consists of a flexible corrugated tube that is firmly connected at one end to a special blockable tracheostomy tube. At the other end is a mouthpiece with bite blocks. This mouthpiece is placed in the mouth of the user and is tightly enclosed by his lips. The air is sucked in through the nose, passed into the pharynx and then passed through the oral cavity to the corrugated tube. The air is then passed through the corrugated tube to the tracheostomy tube and flows into the tracheostoma.
The tracheostomy tube with balloon is required to prevent water from penetrating the tracheostoma. By inflating the balloon (cuff), the cannula within the tracheostoma can be sealed against the tracheal wall. The inflation takes place with a 10 ml syringe, which is included in the scope of delivery of the Larchel.
After inserting the Larche® cannula, a cannula strap is placed around the neck and attached to the side outlets of the cannula shield with the hook fastener. This stabilizes the position of the tracheostomy tube in the tracheostoma.
The Larchel is available in different sizes (cannula diameters). In order to achieve a good seal when inflating, the cannula diameter must be selected exactly. Consultation with the attending physician and an authorized specialist, e. B. a swimming officer of the larynx association required as part of the briefing.
The applicability of the Larchel requires a detailed medical examination of the user, so that no health impairments prevent the use of this aid. A doctors prescription of the aid Larchel for the respective user is essential.
Be careful with an unstable tracheostoma and the associated problematic cannula change. Use of the Larchel is not recommended here.
Price (without guarantee):
On request from: Sales
Product Information from the Manufacturer / Distributor:
Further Product Details
Further Information
REHADAT does not sell any products
Please contact the manufacturer or distributor.
Manufacturer:
no data available

Distributor:
Andreas Fahl Medizintechnik-Vertrieb GmbH
August-Horch-Str. 4a
51149 Köln
Germany Telephone: 02203 2980-0 Email: vertrieb@fahl.de Homepage: https://www.fahl-medizintechnik.de/
Keywords
ISO
Search for similar prodcuts in REHADAT:
Search for similar products in EASTIN throughout Europe:
ICF Items
Reference Number:
M/4652
Source :
IDTS
Last Update: 23 Apr 2021