Content
Assistive Product

Segelflug für Menschen im Rollstuhl
Product Type:
Segliding for people in wheelchairs
- Hand control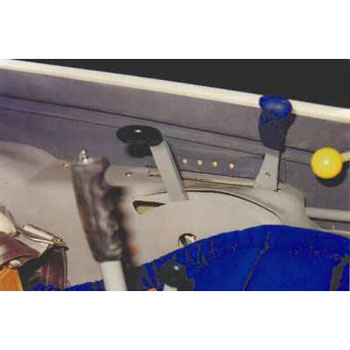 Description:
German glider manufacturers have responded to initiatives by disabled pilots and are offering LBA-approved conversions for some of their models:
GROB-Flugzeugbau: for the Twin Astir or G 103 and others
ALEXANDER SCHLEICHER: for the ASK 21 and others
SCHEMPP-HIRTH for the DuoDiscus as well as the single-seater Discus and other models

All conversions are permanent, but the controls for disabled pilots can be removed in seconds if they are used by other pilots could disturb. The converted aircraft can therefore also be used without restrictions in the club! Further conversions are available in other countries, information about a conversion for Bergfalke, Grob Acro-Twin and SF 25 (motor glider) in Austria and LS 7 in England is available.

In the picture the conversion of the ASK 21:
On the left side wall an additional lever (black handle) is attached with which the rudder is operated.
A different design has prevailed for gliders than for motor and UL aircraft: the hand moves in the same direction as the corresponding foot.
The airbrake lever can be locked in different positions, the lock can also be unlocked from the rear seat.
The Oerlinghausen gliding school has a converted ASK 21 and offers glider training for the disabled.
Wheelchair-accessible accommodations and training rooms are available at the airfield.
More information at www. segelflugschule-oerlinghausen.de
Some clubs also offer glider training for the disabled!
About ten German people in wheelchairs have made the switch to the glider cockpit, others are in training or are about to do so.
Price (without guarantee):
On request by: Die Rolliflieger
Product Information from the Manufacturer / Distributor:
Further Product Details
Further Information
REHADAT does not sell any products
Please contact the manufacturer or distributor.
Manufacturer:
no data available

Distributor:
Die Rolliflieger
Interessengemeinschaft Luftsport treibender Behinderter e.V.
Schurzstr. 18
63743 Aschaffenburg
Germany Telephone: 06021 960685 Email: info@rolliflieger.de Homepage: http://www.rolliflieger.de
Reference Number:
M/25042
Source :
IDTS
Last Update: 13 Apr 2021