Content
Assistive Product

Shimpo Töpferscheibe RK 3D
Product Type:
Electric potter's wheel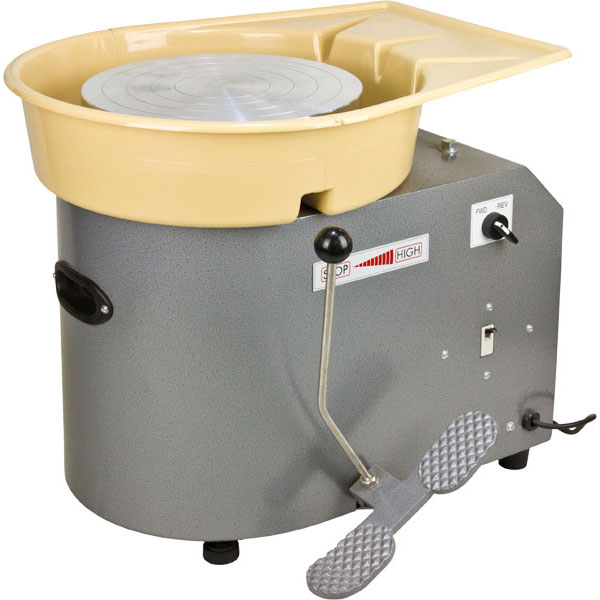 Other:
The product is currently not available.
Description:
The device has a brushless direct drive motor that provides high torque throughout the speed range and, in combination with a control system, keeps the set speed constant even under heavy load.
V-belts and pulleys have been eliminated, eliminating vibration. This ensures smooth running when turning pottery.
The starting and stopping of the wheel is precise.
The aluminium disc cover has a diameter of 300 mm.
When the motor is switched off, the wheel head can be moved freely and can therefore also be used as a knurling wheel.
A built-in motor protection switch protects the unit from overload.
Price (without guarantee):
1.356,60 EUR including VAT. (distribution)
End user price
Product Information from the Manufacturer / Distributor:
Weitere Produktvarianten
Further Information
REHADAT does not sell any products
Please contact the manufacturer or distributor.
Manufacturer:
no data available

Distributor:
Carl Jäger Tonindustriebedarf GmbH
In den Erlen 4
56206 Hilgert
Germany Telephone: 02624 94169-0 Email: shop@carl-jaeger.de Homepage: https://shop.carl-jaeger.de
Technical Data:

Motor: 400W, 230V
Control range: smoothly variable 0-250 rpm
Dimensions (LxWxH): 582 x 525 x 515 mm
Disc cover diameter mm: 300 mm
Keywords
ISO
Search for similar prodcuts in REHADAT:
Search for similar products in EASTIN throughout Europe:
ICF Items
Reference Number:
M/3723
Source :
IDTS
Last Update: 30 May 2021