Assistive Product

Gewa Abilia Umfeldsteuerung Control Omni
Product Type:
Environmental control systems with mobile telephony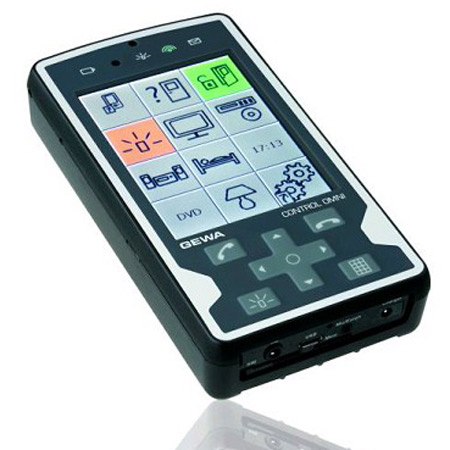 Description:
The environmental control system is equipped with infrared, radio (Z-Wave), mobile telephony and SMS. The control enables the operation of multimedia, home automation and telephony via various input options such as scanning or direct input via touch screen. For mobile telephony, a SIM card is required, which can be stored in a slot. Voice output is via built-in speakers or a headset. Batteries are charged via a charger. Charging station and various holding systems are available as options.
Features / Components:
- for sensor / button connection 3.5 mm jack
- GSM module for SMS and personal call function
- Touchscreen resistive
- Headset, IR and radio
- Battery and cha
Price (without guarantee):
Price is available on request from the manufacturer / distributor
SHI-Number:
SHI-Medical Technical Aids Register | 02.99.05.0900
Product Information from the Manufacturer / Distributor:
Weitere Details des Vertriebs
Further Information
REHADAT does not sell any products
Please contact the manufacturer or distributor.
Manufacturer:
Abilia AB
Råsundavägen 6
Solna
Sweden Telephone: +46 8 594694-00 Email: info@abilia.se Homepage: https://www.abilia.com/sv
Distributor:
Reteaca Reha- und Kommunikationstechnik
Rabenweg 7
89567 Sontheim
Germany Telephone: 07325 919407 Email: reha@reteaca.de Homepage: https://www.reteaca.net
Technical Data:

Battery life: approx. 44 hrs.
Talk time mobile: approx. 8 hrs.
Size: 140 x 76 x 27 mm
Weight: 300 g incl. batteries
Battery: 4 x 1.5 V alkaline
Actuating force: < 1 N (100 g)
Reference Number:
M/266018
Source :
IDTS
Last Update: 14 Jun 2022