Assistive Product

PowerLink 4
Product Type:
Switching device for pushbutton and switch operation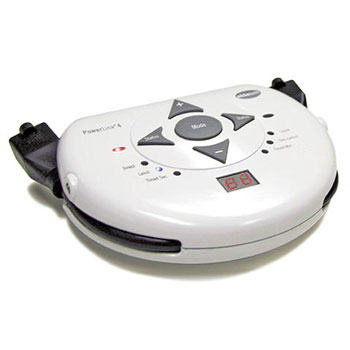 Description:
PowerLink is a mains switching adapter for operating two external 230 V devices with one pushbutton each (2 channels). Mixer, fan, hairdryer etc. can be activated by pressing an external control element. The connected devices can be switched separately.

Different settings are available, which define how and for how long the device should be switched. In the timer mode, the device is activated for the preset time after pressing the button, after which it automatically switches off again; in the direct mode, it is only active for the duration of the button press. By means of the On/Off option, the connected device turns on at the first press, and turns off at the second.

The PowerLink4 has a bright plastic housing with a digital display. The display shows the elapsing time in timer mode ("countdown").

The control can be done by any control element with 3.5 mm jack plug. Wireless control is possible by means of Big- or JellyBeamer. Receivers for Ablenet wireless pushbuttons are already built in.
Features / Components:
The following 6 operating modes can be selected:
- seconds timer (1-99 seconds)
- minutes timer (1-99 minutes)
- Direct: The device remains switched on as long as the button is pressed.
- On/Off: The device is activated at the first key press, and switched off at the second
- 2-Buttons: The device is activated only when both keys are pressed simultaneously
- Counting: Same as "Direct" mode, all key activations are counted and displayed.
Price (without guarantee):
419,00 EUR incl. VAT (Rehavista)
End user price
Product Information from the Manufacturer / Distributor:
Further Product Details
Further Information
Reference Number:
M/25743
Source :
IDTS
Last Update: 5 Aug 2022