Assistive Product

MWG Niederschlag (kapazitiv)
Product Type:
Blind control - Precipitation sensor (capacitive)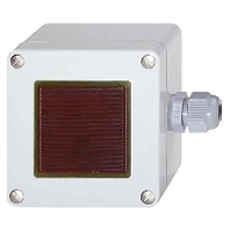 Description:
The precipitation sensor (capacitive) is used to measure the duration of precipitation or as a status indicator for downstream safety devices against precipitation to prevent damage to sun shading products. A power supply unit is required for the voltage supply.
Features / Components:
- Suitable sensor for Minitronic dialog, WAREMA climatronic, LonWorks technology and BAline
- Sensor surface is heated and prevents icing, fogging due to dew and triggering at high humidity
- Connection cable can be extended to up to 200 m if required
- Weather-resistant cable required
- Mounting by means of mounting bracket on the building facade
- Additional mounting set available for pipe moun
Price (without guarantee):
The price is available on request from the manufacturer / distributor.
Product Information from the Manufacturer / Distributor:
Further Product Details
Further Information
Reference Number:
W/03260
Source :
IW
Last Update: 22 Dec 2021