Assistive Product

Funkfernbedienung DuoFern
Product Type:
Radio remote control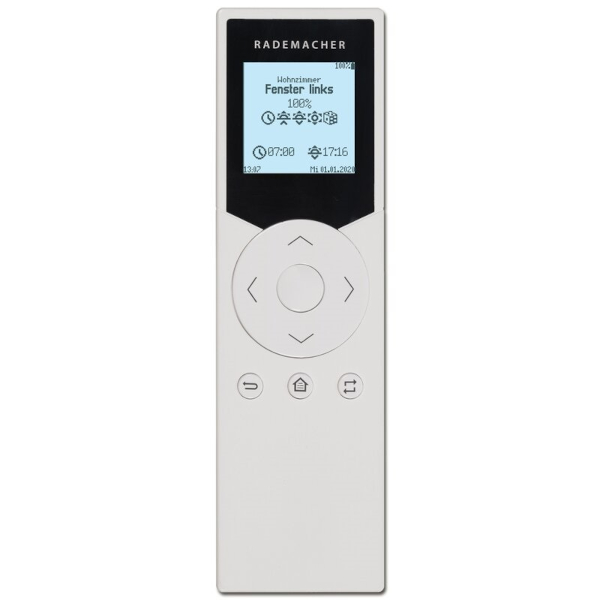 Description:
The DuoFern hand control unit is used to operate up to 45 DuoFern devices in up to 9 individually configurable groups. It has an illuminated LCD display with graphic menu guidance and a motion sensor for display activation. In addition, the contrast of the display can be individually adjusted.
Features / Components:
- Functions for automating device groups such as day/week/weekend program, astro and random function
- In combination with the environmental sensor, devices can also be automated via weather data
- Configuration of, among other things. Ventilation position, end point setting, reversal of direction of rotation, intermediate position and running time
- Individual names and sorting for devices and groups can be defined
- Summertime/wintertime changeover can be activated/deactivated
- In addition to the automatic DuoFern device search, it is also possible to log on via radio code
- USB interface for backup, restoration and firmware update via PC
Price (without guarantee):
The price is available on request from the manufacturer / distributor.
Product Information from the Manufacturer / Distributor:
Further Product Details
Further Information
Technical Data:

Supply voltage 4.5 V
Battery type 3 x 1.5 V AAA (Micro)
Battery life approx. 2 years in stand-by
Transmitting frequency 434.5 MHz
Transmitting power max. 10 mW
Range: Free field approx. 100 m in buildings approx. 30 m (depending on building structure)
Operation at +5°C - +40°C
Dimensions 165x48x22 mm (LxWxH)
Reference Number:
W/02218
Source :
IW
Last Update: 29 Nov 2021