Assistive Product

LITTLE Step-by-Step mit Ebenen
Product Type:
Talking key with 3 separate vocabulary levels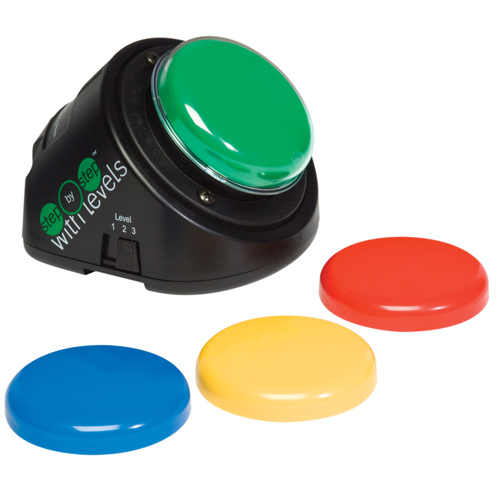 Description:
The 3 levels can be recorded and deleted independently. The entire surface of the key is pressure sensitive and triggers even with a light touch. Supplied complete with 4 keycaps in red, green, yellow and blue. The key caps are screwed on. The transparent key cover SNAP for marking with a symbol is also included in the delivery. Parallel to the voice output, an external device (toy or similar) can be activated. An input for an external button is available in case the built-in button cannot be activated. Mounting on a Magic Arm is possible. A carrying strap is available as an accessory.
Features / Components:
- 3 vocabulary levels
- Number of statements: any number
- Volume adjustable
- Input for external button
- Switching output for adapted toy
- incl. 4 key caps to change
- incl. transparent button cover SNAP
- mounting options through removable base plate and AbleLink conne
Price (without guarantee):
265.00 EUR incl. VAT. (distribution)
End user price
SHI-Number:
SHI-Medical Technical Aids Register | 16.99.02.0005
Product Information from the Manufacturer / Distributor:
Weitere Details des Vertriebs
Further Information
REHADAT does not sell any products
Please contact the manufacturer or distributor.
Manufacturer:
AbleNet, Inc.
2625 Patton Road
MN 55113-1137 Roseville
United States Telephone: +1 651 294-2200 Homepage: https://www.ablenetinc.com
Distributor:
Prentke Romich GmbH
Karthäuserstr. 3
34117 Kassel
Germany Telephone: 0561 78559-0 Email: info@prentke-romich.de Homepage: https://www.prentke-romich.de
Technical Data:

Dimensions: 15 mm x 40 mm x 95 mm
Button diameter: 6.3 cm
Weight: 232 g
Power supply: 1 x 9 V
Memory capacity: 245 seconds
Triggering strength: 90 g
Reference Number:
M/26576
Source :
IDTS
Last Update: 22 May 2021