Assistive Product

Rompa Musik-Sitzsack
Product Type:
- Beanbag
Music Beanbag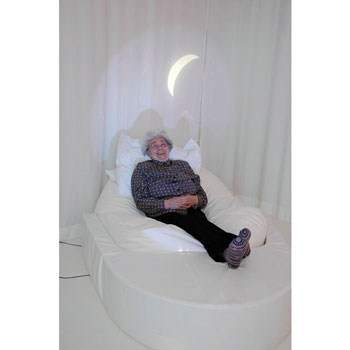 Areas of Application:
- Therapy
- Music Therapy

Description: According to the supplier,
music, noise and sound can be experienced individually through integrated speakers depending on the position of the user. Due to the filling with flexible polysterol beans, there are various possibilities to control the sensation intensity of the sound waves transmitted to the body. In addition, the music beanbag is very well suited as a preliminary stage for the use of a music waterbed, e.g. in case of balance disorders or existing mobility impairment. For the company you need a standard stereo system with at least 2x15 watt sine wave power, approx. 100x145x60 cm high.
Features / Components:
Upholstery:
The music beanbag is optionally made of nylon reinforced vinyl in red, blue, yellow, green, white or a white PU cover.
The border for the music beanbag is made of a foam core RG 30/50 and covered with a white cover made of flame retardant nylon reinforced vinyl (71,7% polyvinyl chloride, 28,3% polyest
Price (without guarantee):
1.249 EUR including VAT
End user price
Product Information from the Manufacturer / Distributor:
Further Product Details
Further Information
REHADAT does not sell any products
Please contact the manufacturer or distributor.
Manufacturer:
no data available

Distributor:
Sport-Thieme GmbH
Helmstedter Str. 40
38368 Grasleben
Germany Telephone: 05357 18181 Email: info@sport-thieme.de Homepage: https://www.sport-thieme.de
Technical Data:

Depth (cm): 60
Width (cm): 100
max. Height (cm): 145

Other:
Border for music beanbag: Special production as an extension of the music beanbag. With the border it is possible to stretch out completely. The border for the music beanbag is free of harmful substances and covered with a white cover. The foam ensures that the users can lie on it safely and without sinking deeply. Special sizes and other covers are possible, as well as the equipment with flame-retardant foam. Prices on request.
Reference Number:
DIAS/006459
Source :
IDTS
Last Update: 23 Feb 2023