Content
Assistive Product

Evac Skate
Product Type:
Evacuation Chair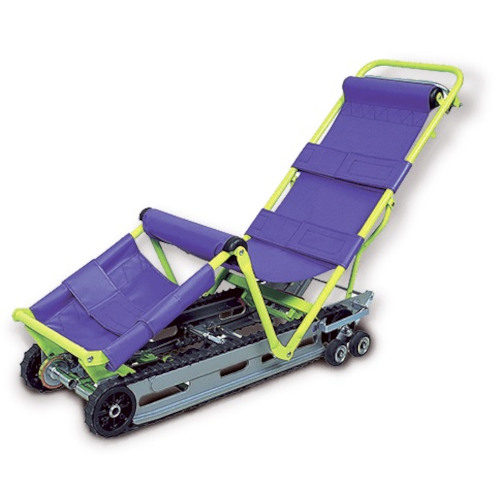 Areas of Application:
- Evacuation of Injured People
- Hospitals, Ambulances, Fire Department, Theaters, Cinemas, Nursing Home, etc.
Description:
This evacuation chair can be used to quickly and safely transport disabled or injured people down stairs in the event of a disaster. Its patented speed control and braking system allows even petite people to evacuate large passengers.
Features / Components:
- assurance for emergency situations
- quick and easy assembly for immediate use
- load capacity: 135 kg
- the passenger's own weight causes the device to move down
- automatic speed control
- automatic safety brake also stops on the stairs
- durable caterpillar tracks grip the steps securely
- the minimum required stair landing size is only 105 x 184 cm
- delivery includes detailed operating instructions
- item number: E
Price (without guarantee):
The price is available on request from the manufacturer / distributor.
Product Information from the Manufacturer / Distributor:
Further Product Details
Further Information
REHADAT does not sell any products
Please contact the manufacturer or distributor.
Manufacturer:
no data available

Distributor:
ESCAPE MOBILITY INTERNATIONAL BV
Bocholtzerweg 14C
6369 TG Simpelveld
Netherlands Telephone: 0241 479679-0 Email: info@escape-mobility.de Homepage: https://escape-mobility.com/de/
Technical Data:

- Load capacity (kg): 135
- Own weight (kg): 21
- Dimensions folded (cm): height x width x depth 110 x 42.6 x 27
Reference Number:
W/02977
Source :
IW
Last Update: 28 Feb 2022