Assistive Product

ErgoMover Wireless – Transportwagen mit Funkfernbedienung
Product Type:
Transport car with radio remote control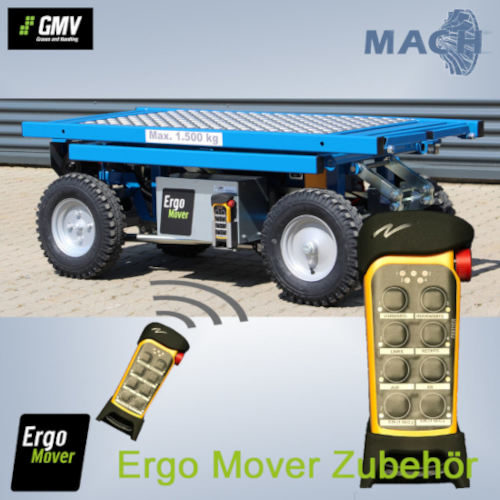 Areas of Application:
for example to relieve the musculoskeletal system
Description:
The ErgoMover Wireless, a transport car with battery operation and radio remote control, is suitable for long goods such as tubes or when goods need to be transported in confined spaces. The ErgoMover Wireless has no steering tiller and no control panel, which normally limits the load length. The driving speed is two-stage: slow and fast (max. 6 km/h).
Price (without guarantee):
Price wireless remote control: 3.300,00 EUR plus VAT (Distribution MACH)
Product Information from the Manufacturer / Distributor:
Weitere Details des Herstellers
Weitere Details des Vertriebs
Further Information
REHADAT does not sell any products
Please contact the manufacturer or distributor.
Manufacturer:
GMV Cranes and Handling
Industriparken 1
7182 Bredsten
Denmark Telephone: +45 75 738247 Email: post@gmvas.dk Homepage: https://gmvas.dk
Distributor:
MACH - Machinery
Dauchinger Str. 5
78652 Deisslingen
Germany Telephone: 07420 7689753 Email: Sales@mach-shop.de Homepage: https://mach-shop.de
Reference Number:
Hil135816
Source :
IW
Last Update: 5 Dec 2022