Assistive Product

EUROKRAFTpro Plattformwagen mit Elektroantrieb
Product Type:
Platform trolley with electric drive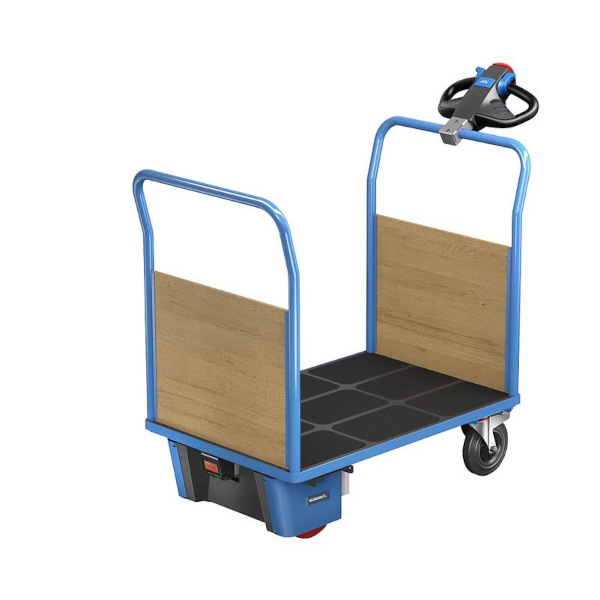 Areas of Application:
for example, to relieve the musculoskeletal system
Description:
The electric module allows easy retrofitting and electrification of transport cars. The control of the drive via the control panel is done via Bluetooth.
The ergonomically shaped, multifunctional tiller head enables fatigue-free operation. The sturdy tubular handles provide easy steering
Features / Components:
- Coupling: via Bluetooth, wireless, fleet operation possible
- 4 half-height walls
- Drive battery: lithium-ion removable battery
- Smoothly speed control: by means of two thumb buttons (the maximum speed is 4 km/h)
- Creep speed: can be activated if necessary, for high-precision forward and reverse
- Charge status: visually via battery level indicator and acoustically
- horn
- safety belly button: prevents jamming when reversing
- foot protection
- 2 swivel castors, 2 drive wh
Price (without guarantee):
3.867,50 EUR plus VAT (recommended retail price)
Product Information from the Manufacturer / Distributor:
Further Product Details
Further Information
REHADAT does not sell any products
Please contact the manufacturer or distributor.
Manufacturer:
no data available

Distributor:
KAISER+KRAFT GmbH
Presselstr. 12
70191 Stuttgart
Germany Telephone: 0711 3465-60 Email: service@kaiserkraft.de Homepage: https://www.kaiserkraft.de/
Technical Data:

Dimensions (L x W x H): 1370 x 700 x 1300 mm
Push bar height 1130 mm
Loading height: 285 mm
Wall height: 235 mm
Wheel diameter: 200 / 230 mm
Loading time: 6 h
Running time: 8 h
Speed: 5 km/h
Load capacity: 500 kg
Weight:
Reference Number:
Hil135786
Source :
IW
Last Update: 16 Nov 2022