Assistive Product

Plattenkarre
Product Type:
Plate Truck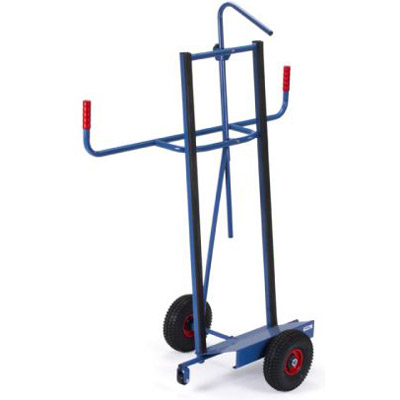 Areas of Application:
for example to relieve the musculoskeletal system
Description:
The plate truck is used for longitudinal transport of large wooden and plastic plates. Transporting the boards with the board trolley eliminates the need for manual transport in the plane. The panels no longer have to be carried and held. This significantly reduces the strain on the spine and hand-arm system.
Features / Components:
- Wheels: solid rubber, pneumatic tires, support rollers
- Equipment: covered with profiled rubber (non-slip) and adjustable hold-down device to prevent tip
Price (without guarantee):
276,00 EUR plus VAT. (recommended retail price)
Product Information from the Manufacturer / Distributor:
Further Product Details
Further Information
Technical Data:

Total width: 680 mm
Height: 1450 / 1460 mm
Bucket width: 200 mm
Bucket length: 500 mm
Solid rubber tires: 250 x 60 mm
Load capacity: 350 / 400 kg
Weight: 18 / 20 kg
Reference Number:
IW/243903.021
Source :
IW
Last Update: 18 Oct 2022