Assistive Product

Ordnerwagen
Product Type:
Transport trolley / supply trolley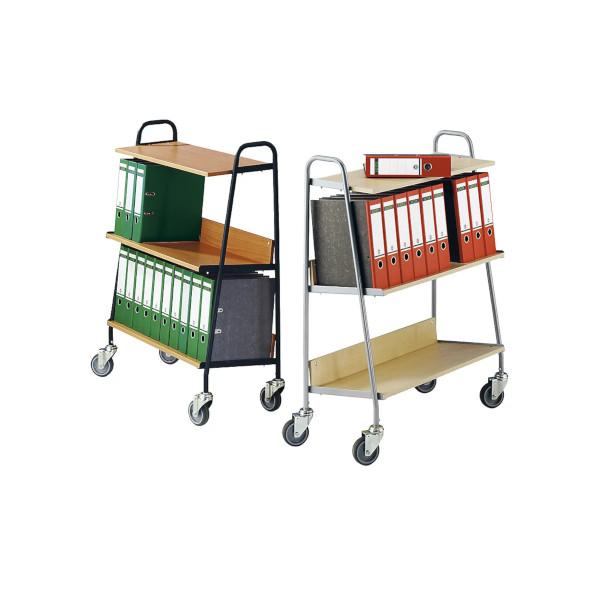 Areas of Application:
Description:
The steel file trolley with shelves sloping backwards offers two shelves each for ten files as well as books and catalogues up to DIN A4.
Features / Components:
- Frame: powder-coated
- Shelves / back: made of sheet steel
- Side frame: made of square tubing
- 2 shelves for ten files each (spine width 80 mm)
- Wheels: 4 swivel castors, 2 with wheel stops (Ø 100 mm)
- Delivery: disassem
Price (without guarantee):
309,00 EUR excluding VAT. (Price of the distributor)
Product Information from the Manufacturer / Distributor:
Further Product Details
Further Information
REHADAT does not sell any products
Please contact the manufacturer or distributor.
Manufacturer:
no data available

Distributor:
KAISER+KRAFT GmbH
Presselstr. 12
70191 Stuttgart
Germany Telephone: 0711 3465-60 Email: service@kaiserkraft.de Homepage: https://www.kaiserkraft.de/
Technical Data:

Dimensions (L x W x H). 850 x 350 x 1070 mm
Number of shelves: 3 pieces
Number of file heights: 2 pieces
Number of push handles: 2 pieces
Inclination of shelves: 90 degrees
Wheel diameter: 100 mm
Load capacity: 120 kg
Weight: 22 kg
Reference Number:
IW/242490.005
Source :
IW
Last Update: 27 Oct 2021