Assistive Product

Blechschere BLS 2.5 E
Product Type:
Sheet metal shears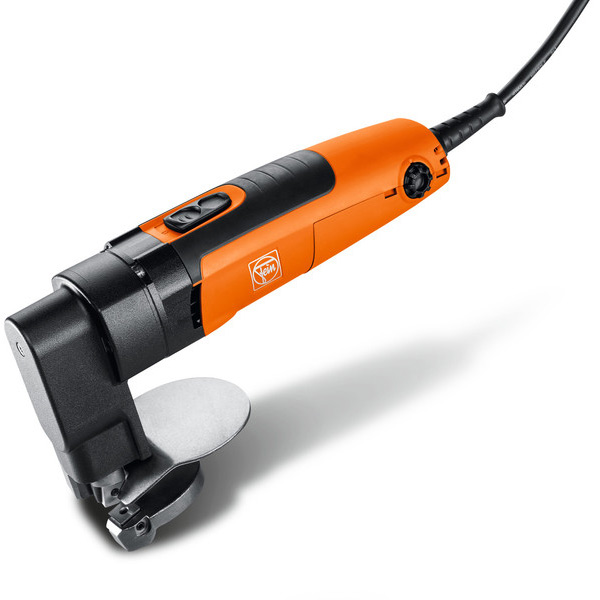 Areas of Application:
Description:
The sheet metal shears are used for cutting curves and trimming. During cutting, the material is not damaged or deformed. The plate shear enables fatigue-free processing of metal parts.
Features / Components:
- Reversible blade: 4-fold reversible blade, for burr-free cutting at low operating costs
- Curve cutting: Low sheet deformation
- View of cut line: unrestricted
- Ram and table knives
- Chip defle
Price (without guarantee):
1,030.54 EUR incl. VAT (recommended retail price)
Product Information from the Manufacturer / Distributor:
Further Product Details
Further Information
REHADAT does not sell any products
Please contact the manufacturer or distributor.
Manufacturer:
C. & E. Fein GmbH
Hans-Fein-Str. 81
73529 Schwäbisch Gmünd-Bargau
Germany Telephone: 07173 183-0 Email: info@fein.de Homepage: https://fein.com/de_de
Distributor:
C. & E. Fein GmbH
Hans-Fein-Str. 81
73529 Schwäbisch Gmünd-Bargau
Germany Telephone: 07173 183-0 Email: info@fein.de Homepage: https://fein.com/de_de
Technical Data:

Steel up to 400 N/mm²: 2.5 mm
Steel up to 600 N/mm²: 2.0 mm
Steel up to 800 N/mm²: 1.6 mm
Non-ferrous metals up to 250 N/mm²: 3.0 mm
Radius of smallest curve: 20 mm
Rated power input: 350 W
Power output: 210 W
Stroke rate: 800 - 1.700 1/min
Cutting speed: 3 - 6 m/min
Cable with plug: 5 m
Weight: 2.1 kg
Reference Number:
IW/271291.019
Source :
IW
Last Update: 12 Oct 2022