Assistive Product

Geradschrauber mit Schubstart und Hebelstart für Abschaltumgehung
Product Type:
Straight screwdriver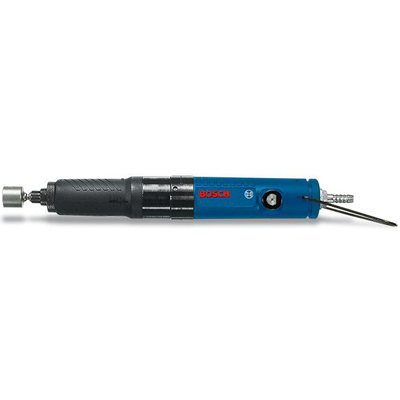 Special Feature:
vibration dampened, ergonomic handle
Areas of Application:
for example
- to relieve the musculoskeletal system
- to reduce vibration
Description:
The rotary screwdrivers are designed according to a variable modular system. They have a wear-free shut-off clutch, vibration damping and an ergonomic handle for optimum handling.
Features / Components:
- Housing: cold-insulating polyamide housing
- Handle: ergonomic
- vibration dampening
- Shut-off clutch: wear-free
- Direction of rotation right and left
- Shut-off clutch
- Hose nipple G 1/4"
- Locking hook
- Suspension bracket
- Additional handle, 46 mm diam
Price (without guarantee):
The price is available on request from the manufacturer / distributor.
Product Information from the Manufacturer / Distributor:
Further Product Details
Further Information
REHADAT does not sell any products
Please contact the manufacturer or distributor.
Manufacturer:
Robert Bosch GmbH
Robert-Bosch-Platz 1
70839 Gerlingen-Schillerhöhe
Germany Telephone: 0711 400-40990 Email: kontakt@bosch.de Homepage: https://www.bosch.de
Distributor:
Fachhandel
Adressen bitte im Internet recherchieren.

Technical Data:

Screw diameter: M8
Tool holder: 1/4" SWF
Connection thread: G 1/4 inch
Tightening torque: 5.5-15 Nm
Air consumption under load: 14 resp. 29.7 l/s/cfm
Idle speed: 700 1/min
Power: 400 W
Weight: 1.4 kg
Reference Number:
IW/271291.018
Source :
IW
Last Update: 21 Dec 2021