Assistive Product

GUS 12V-300 Professional
Product Type:
Battery Universal Shears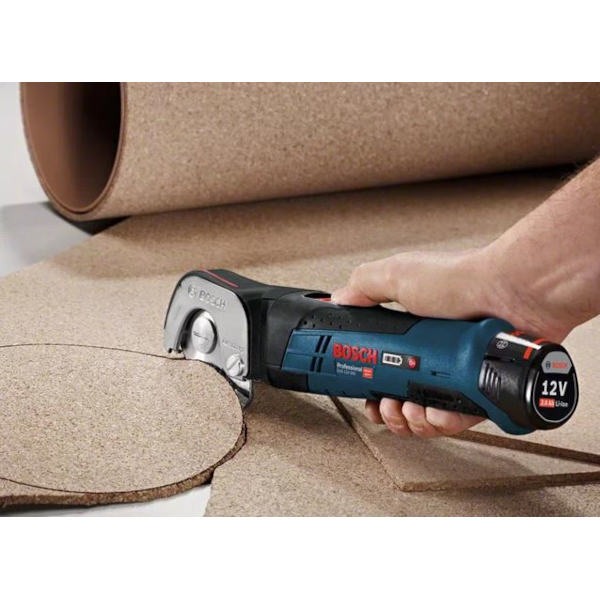 Areas of Application:
for example, when there is a lack of strength in the hands
Description:
The self-sharpening multi-material blade is suitable for versatile applications. Fast work progress is possible due to the high no-load speed of the shears and a good rotation ratio in soft and flexible materials. The power tool is suitable for cutting PVC, carpet, cardboard, leather and fabr
Price (without guarantee):
from 138.60 EUR plus VAT (recommended retail price)
Product Information from the Manufacturer / Distributor:
Further Product Details
Further Information
REHADAT does not sell any products
Please contact the manufacturer or distributor.
Manufacturer:
Robert Bosch Power Tools GmbH
Max-Lang-Str. 40-46
70771 Leinfelden-Echterdingen
Germany Telephone: 0711 40040990 Email: kontakt@bosch.de Homepage: https://www.bosch-diy.com/de/de
Distributor:
Fachhandel
Adressen bitte im Internet recherchieren.

Technical Data:

Packaging dimensions (width x length x height): 220 x 335 x 80 mm
Cutting capacity: 150 m per Ah battery charge
Cutting capacity in PVC (with 4 Ah): max. 300 m
No-load stroke rate: 700 min-1
Battery voltage: 12.0 V
Weight with battery: 1 kg
Reference Number:
Hil135895
Source :
IW
Last Update: 24 Aug 2023