Assistive Product

Schubladenschrank
Product Type:
Drawer cabinet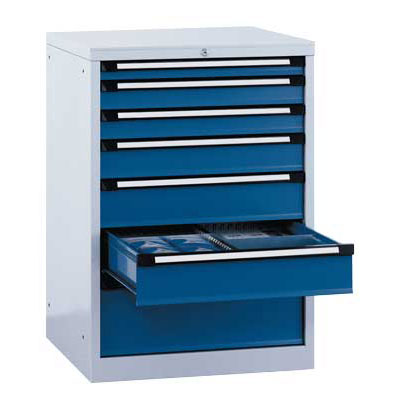 Areas of Application:
for example to improve the gripping space
Description:
The drawer cabinet allows smaller parts to be kept in order. The locking technology of the drawer cabinet allows only one open drawer at a time, so there is no risk of tipping.
Features / Components:
- Sheet steel housing: welded, no sharp edges
- Rotary cylinder lock: with two keys
- Drawers: slotted for furnishing material
- Handle strip: with protected labeling st
Price (without guarantee):
The price depends on the individual wishes of the customers.
Product Information from the Manufacturer / Distributor:
Further Product Details
Further Information
Technical Data:

Dimensions (W x D x H): 565 x 550 x 810 mm to 1315 x 700 x 1530 mm
11 front heights: 60-450 mm
Drawer extensibility (3 Versions): 80-100 %
Drawer load capacity (3 Versions): 80-100 kg


Options / Accessories:
- Cover plates
- Roll-off rim
- Ribbed rubber top
- Pedestal
- Pull-out shelves
- Shelves
- Furnishing material
Reference Number:
IW/270906.017
Source :
IW
Last Update: 3 Nov 2022