Assistive Product

Behälter in Sondergrößen
Product Type:
Storage containers in special sizes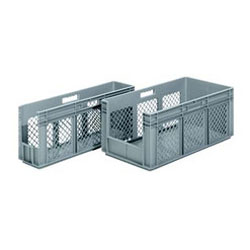 Areas of Application:
for example
- for clear design of the workplace
- for greater space for movement
Description:
Special components do not fit into standardized containers in Euro dimensions due to their shape and dimensions. The products are too large or too small and therefore require packaging units in special sizes. With Cut & Weld containers, depending on the special size required - whether small or large - segments are cut out of the basic container or several containers are joined together by mirror welding to form a new container.
In normal applications, the load capacity of welded containers is identical to that of standard containers. The stability of the weld seam corresponds to approx. 90% of the material strength of the container. This also applies when using ESD material.

The storage option makes workplaces clear, trip-free and they create more space for movement.
Features / Components:
- Material: standard as PP or PE version, on request available in electrically conductive material (
Price (without guarantee):
The price depends on the individual requirements of the customer.
Product Information from the Manufacturer / Distributor:
Further Product Details
Further Information
Technical Data:

Inner dimensions: on customer request
Load capacity: on customer request
Reference Number:
IW/270906.018
Source :
IW
Last Update: 27 Mar 2023