Assistive Product

EURO Gitterbox-Tauschpalette (hoch)
Product Type:
mesh box pallet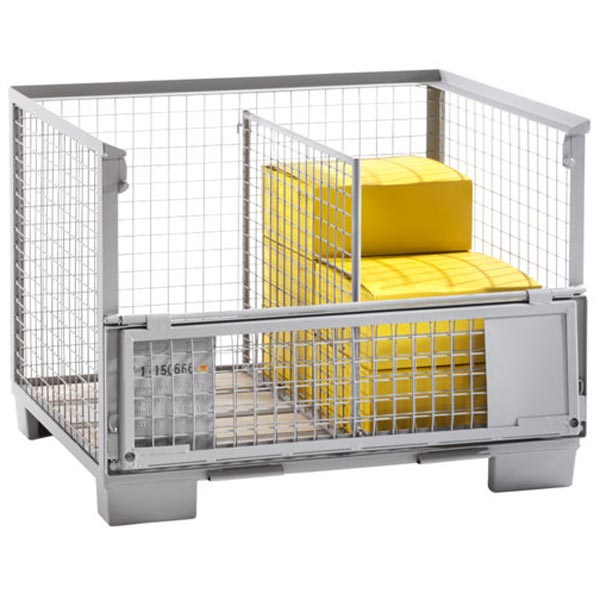 Areas of Application:
- for storage and provision of work items
- for example, to improve the gripping space
Description:
Handling is done with pallet truck or forklift. The box pallets protect against damage and loss, are easy to stack and transport, and avoid packaging waste and disposal costs. The Euro box pallet is approved for the European pallet pool (UIC Code 435.3).
Features / Components:
- Design: high
- Frame: in angle iron
- Longitudinal wall: 1 wall with 2 flaps and label board
- Stacking: 3 on 1
- Feet: made of box section
- Wooden f
Price (without guarantee):
305,00 EUR per piece plus VAT.
Product Information from the Manufacturer / Distributor:
Further Product Details
Further Information
REHADAT does not sell any products
Please contact the manufacturer or distributor.
Manufacturer:
no data available

Distributor:
KAISER+KRAFT GmbH
Presselstr. 12
70191 Stuttgart
Germany Telephone: 0711 3465-60 Email: service@kaiserkraft.de Homepage: https://www.kaiserkraft.de/
Technical Data:

Total height outside / inside: 970 / 800 mm
Width: 800 mm
Length: 1200 mm
Drive-in dimensions lengthwise / crosswise: 760 / 590 mm
Load capacity: 1500 kg


Options / Accessories:
- Lid
- Grid partition
- Chassis
Reference Number:
IW/270906.001
Source :
IW
Last Update: 5 Sep 2022