Assistive Product

Mobiler Teilewagen
Product Type:
Staging trolley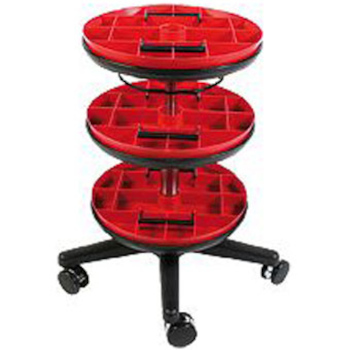 Areas of Application:
Description:
The mobile parts trolley provides material within easy reach and is particularly suitable for industry, manufacturing and workshops. The three storage levels offer plenty of space.
Features / Components:
- Rings top and middle: adjustable
- Inserts: two-part, removable
- Base: Econo
Price (without guarantee):
The price is available on request from the manufacturer / distributor.
Product Information from the Manufacturer / Distributor:
Further Product Details
Further Information
REHADAT does not sell any products
Please contact the manufacturer or distributor.
Manufacturer:
Werksitz GmbH W. Milewski
Telefunkenstr. 9
97475 Zeil am Main
Germany Telephone: 09524 8345-0 Email: info@werksitz.de Homepage: https://www.werksitz.de
Distributor:
Werksitz GmbH W. Milewski
Telefunkenstr. 9
97475 Zeil am Main
Germany Telephone: 09524 8345-0 Email: info@werksitz.de Homepage: https://www.werksitz.de
Technical Data:

Total height: 880 mm
Diameter: 430 mm
Ring top: 620-880 mm
Ring middle: 380-470 mm
Ring bottom: 260 mm
Castor diameter: 75 mm
Reference Number:
IW/280315.002
Source :
IW
Last Update: 14 Oct 2021