Assistive Product

Montage-Rollhocker ECO
Product Type:
Swivel stool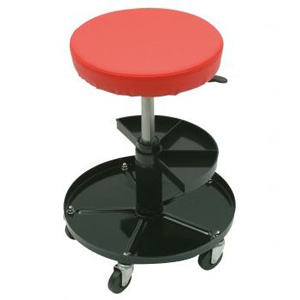 Areas of Application:
for example, to relieve the musculoskeletal system
Description:
The ECO roller stool is suitable for all assembly work at seat height. Below the seat surface, there are 2 storage areas on the roller stool for tools that are constantly needed. The seat of the roller stool is made of plastic and easy to clean.
Features / Components:
- Seat: smoothly adjustable in height by gas pressure spring
- Castors: 5 casters, tilt-resis
Price (without guarantee):
74.50 EUR plus VAT (recommended retail price)
Product Information from the Manufacturer / Distributor:
Further Product Details
Further Information
REHADAT does not sell any products
Please contact the manufacturer or distributor.
Manufacturer:
no data available

Distributor:
ProLux Systemtechnik GmbH & Co. KG
Am Schinderwasen 7
89134 Blaustein
Germany Telephone: 07304 9695-0 Email: info@prolux.de Homepage: https://www.prolux.de
Technical Data:

Seat height: 380-510 mm
Reference Number:
IW/280312.014
Source :
IW
Last Update: 5 Sep 2022