Assistive Product

Flex Altwork Station
Product Type:
Work chair, workplace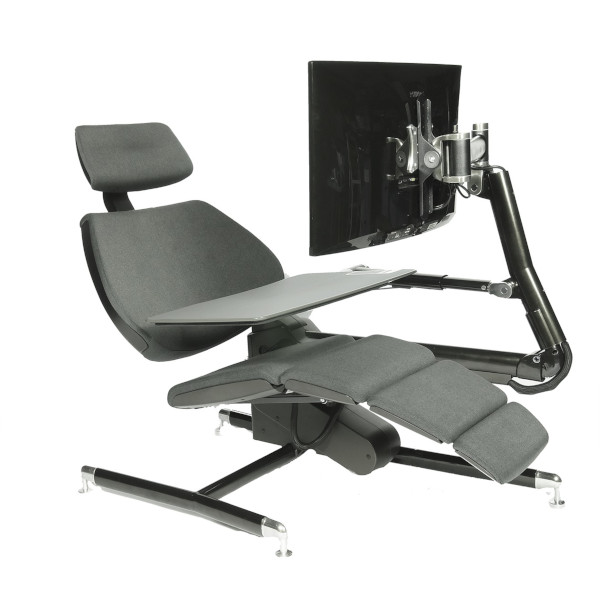 Special Feature:
Lounger workstation
Areas of Application:
Description:
The workstation enables productive work while sitting, standing and lying down. Collaborative work is also feasible due to the manually swiveling monitor and table.
Features / Components:
- Padded lumbar and neck support
- Leg and foot support
- Controls next to keyboard: adjust modes, backrest and footrest
- Sitting mode: monitor, desk and chair
- Standing mode: standing desk with movable monitor and table
- Lounger mode: Table automatically moves to the appropriate height
- Delivery: headrest, mount for monitor, table, leg and footrest, magnet set for restraint of keyboard, mouse and tablet on the table, user ma
Price (without guarantee):
approx. 3,800 EUR (manufacturer's price)
Product Information from the Manufacturer / Distributor:
Further Product Details
Beispiel eines vom LVR geförderten Liegearbeitsplatzes
Further Information
REHADAT does not sell any products
Please contact the manufacturer or distributor.
Manufacturer:
Altwork LLC
400 Breezewood Drive
95441 Geyserville California
United States Mobile: +1 707 394 8600 Email: support@altwork.com Homepage: https://altwork.com/
Distributor:
Altwork LLC
400 Breezewood Drive
95441 Geyserville California
United States Mobile: +1 707 394 8600 Email: support@altwork.com Homepage: https://altwork.com/
Technical Data:

Dimension (WxL): approx. 864 mm x 1397 mm (in sitting position with leg rest)
Maximum length: approx. 1829 mm
Weight: approx. 80 kg
Desk dimensions: approx. 737 mm x 406 mm
Adjustment monitor: 229 mm vertical, 254 mm horizontal
Adjustment desk: 330 mm vertical, 152 mm horizontal
Load capacity: max. 113 kg
Optimum height of the person using the device: 1540-1980 mm
Reference Number:
Hil134609
Source :
IW
Last Update: 19 Jul 2022