Assistive Product

Bürodrehstuhl Axia 2.0
Product Type:
Work chair, swivel chair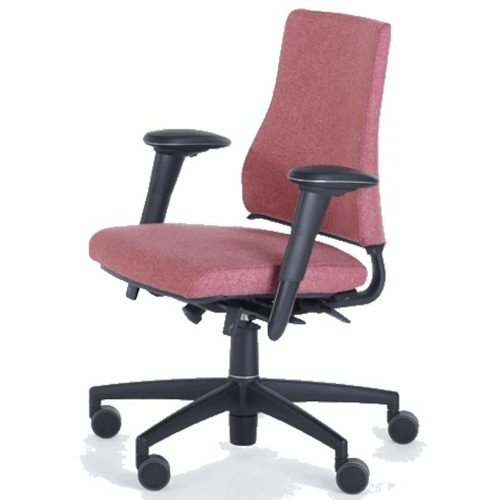 Areas of Application:
People with restricted growth
Description:
The Axia 2.0® office swivel chair has been modified for people with restricted growth. This office swivel chair is optimized for people of short stature with a body height of approx. 120 - 150 cm thanks to an adjustable seat with reduced seat depth and gas springs of different lengths.
The extra short seat depth of 360 mm makes it possible to sit leaning against the backrest even with very short thighs.
With this office swivel chair, the height and width-adjustable armrests can also be individually adjusted.
Features / Components:
- Backrest: shortened
- Seat: height adjustable, depth adjustable, shortened
- Armrests: width adjustable, height adjustable
- Operation: Control lever under seat
- Upholstery: fabric upholstered
- Base: 5-leg c
Price (without guarantee):
The price is available on request from the manufacturer / distributor.
Product Information from the Manufacturer / Distributor:
Further Product Details
Further Information
REHADAT does not sell any products
Please contact the manufacturer or distributor.
Manufacturer:
no data available

Distributor:
Weißenstein Behindertensysteme
Hohenwindenstr. 13
99086 Erfurt
Germany Telephone: 0361 792397-0 Email: mail@weissenstein-bs.de Homepage: https://www.weissenstein-bs.de
Technical Data:

Backrest height: 470 mm
Seat height: 400-550 mm
Seat depth: 360 - 460 mm
Armrest height: 200 - 310 mm
Base diameter: 670 mm
Weight adjustment: 40 -135 kg


Options / Accessories:
- Backrest upholstery with lumbar support
- Lightweight mechanism 30 - 80 kg
- Lower armrest distance 320 mm
Reference Number:
Hil135724
Source :
IW
Last Update: 4 Oct 2022