Assistive Product

Schrauberköcher
Product Type:
Screwdriver Quiver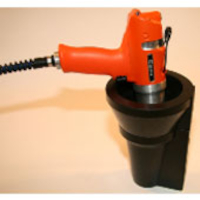 Areas of Application:
for example to improve the gripping space
Description:
The screwdriver quiver is used to provide tools and prevents forced postures. The workplace remains clear.
Features / Components:
- solid rubber
- protection against external influe
Price (without guarantee):
The price is available on request from the manufacturer / supplier.
Product Information from the Manufacturer / Distributor:
Further Product Details
Further Information
REHADAT does not sell any products
Please contact the manufacturer or distributor.
Manufacturer:
no data available

Distributor:
maku GmbH & Co. KG
Eisenbahnstr. 22
73630 Remshalden
Germany Telephone: 07151 90395-0 Email: info@maku-remshalden.de Homepage: http://www.maku-remshalden.de/
Technical Data:

Height: 145 / 210 mm
Inner diameter: 90 / 110 mm
Reference Number:
IW/242721.046
Source :
IW
Last Update: 6 Sep 2022