Assistive Product

Magnetsechskanthalter
Product Type:
Magnetic Holder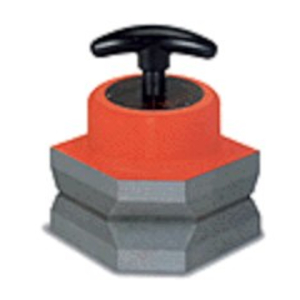 Areas of Application:
for example
- for fine motor restrictions
- for lack of muscle power
Description:
Magnetic clamping tools are used for precision machining of magnetizable parts. The magnetic hexagon holder is used as a welding aid for tubes, round material, flat iron and profile iron.
Features / Components:
- Clamping surfaces: three prismatic clamping surfaces, three flat clamping surfaces
- Magnetic force: smoothly adjustable
- Hard fer
Price (without guarantee):
The price is available on request from the manufacturer / distributor.
Product Information from the Manufacturer / Distributor:
Further Product Details
Further Information
REHADAT does not sell any products
Please contact the manufacturer or distributor.
Manufacturer:
GENOMA Normteile GmbH
Schultheissenstr. 18 - 20
31789 Hameln
Germany Telephone: 05151 6099-0 Email: info@genoma.de Homepage: https://www.genoma.de
Distributor:
GENOMA Normteile GmbH
Schultheissenstr. 18 - 20
31789 Hameln
Germany Telephone: 05151 6099-0 Email: info@genoma.de Homepage: https://www.genoma.de
Technical Data:

Dimensions (W x H): 170 x 150 mm
Clamping angle: 45-90 degrees
Weight: 6 kg
Reference Number:
IW/242718.002
Source :
IW
Last Update: 13 Sep 2022